The Brother XR3774 is a mechanical sewing machine with a lot of great features. If you're thinking about buying this machine, you'll want to read this review first.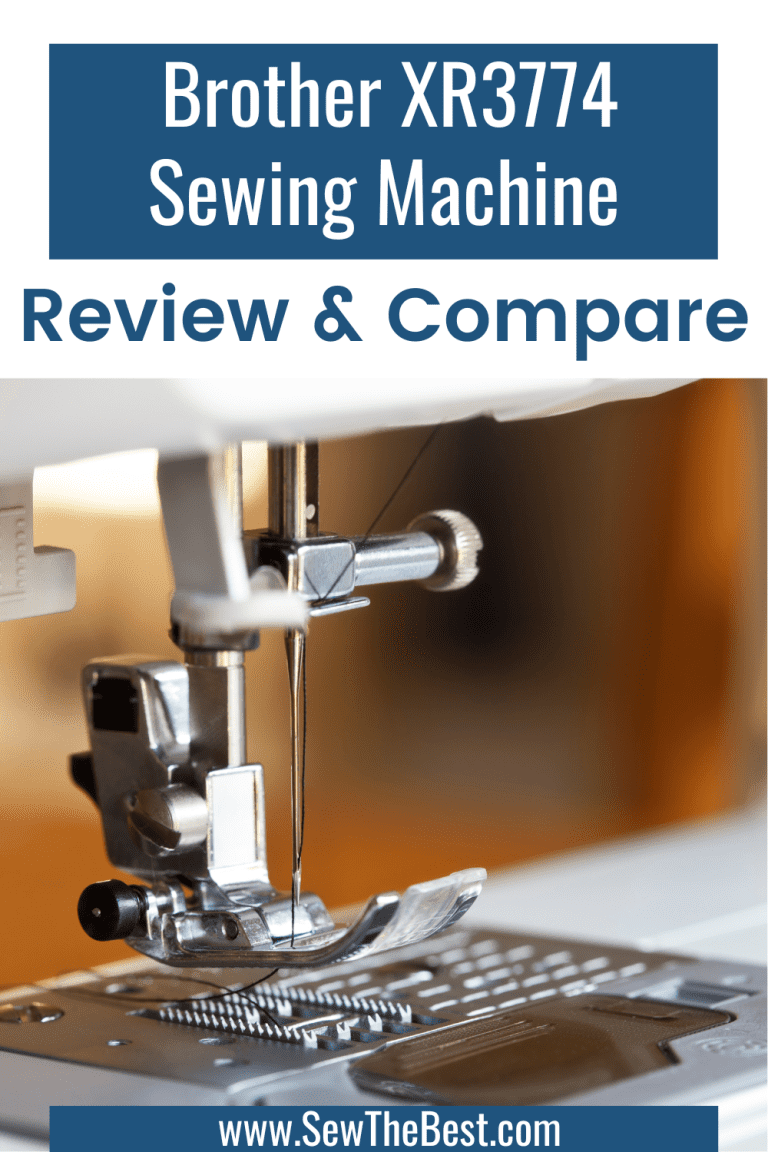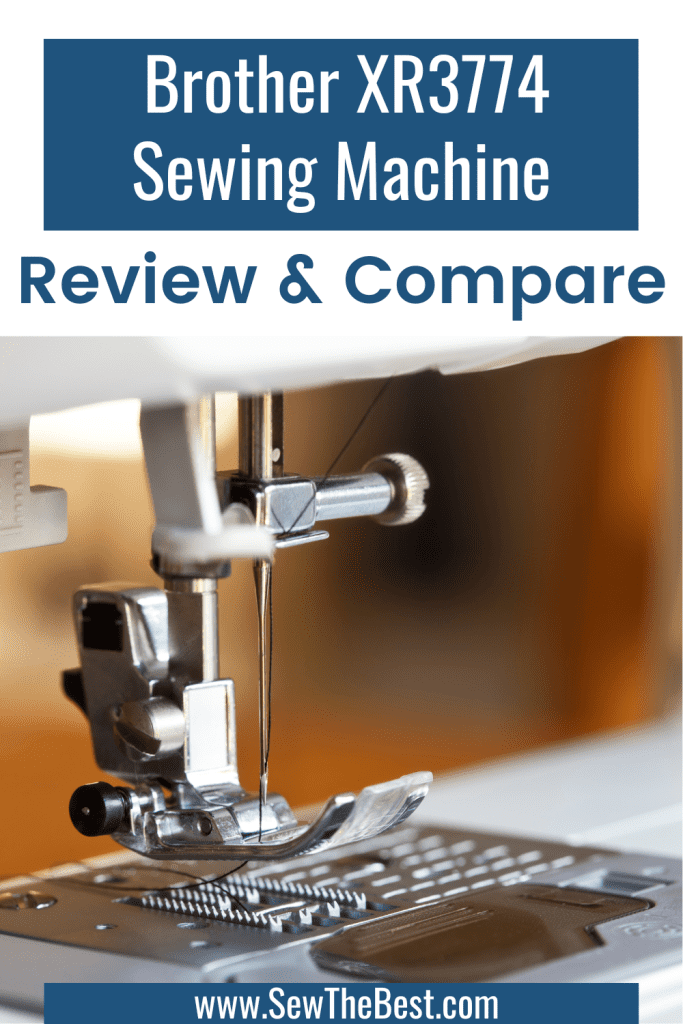 The Brother XR3774 is a perfect sewing machine for any beginner, it is affordable, easy to use and has a range of additional features to help you create a range of exciting sewing projects.
The Borther XR3774 is not a computerised sewing machine, a style which is gaining popularity amongst the sewing community. This sewing machine boosts a lower price point whilst still delivering a high quality sewing machine that includes a plathea of key accessories.
With features such as the automated needle therader, top drop-in bobbin, and easy bobbin winding system and the quick start guide, anyone can set up the XR3774 and begin sewing in no time.
This sewing machine review you help you discover if the Brother XR3774 is the sewing machine for you. You will find out our thoughts on it's usability, additional features and accessories.
If you're in a hurry (or just curious!) –
✅ Check deals on the Brother XR3774
About the Brother XR3774 Sewing and Quilting Machine
| Pros | Cons |
| --- | --- |
| Easy to use | No LCD display |
| LED provides good lighting | No automatic thread cutter |
| Affordable | |
| Automatic needle threader | |
| Stitch selection printed on machine | |
1. Brother XR3774 Sewing and Quilting Machine Details
The XR3774 is a great sewing machine with a wide variety of features that make this standard manual sewing machine top pick when it comes to an easy to set up, easy to use 'basic' sewing machine. This sewing machine is a good choice for many general sewing projects as well as getting started with quilting and completing larger projects thanks to it's removable sewing table.
The Brother XR3774 has 37 different stitches to choose from. This includes your basic sewing stitches, decorative stitches, and one auto-buttonhole stitch. While this may not sound a lot compared to come other sewing machines that boost upwards of 50 stitches, 37 is definitely enough choice to complete most hobbyist sewing projects. All stitches have a maximum stitch length of 5mm and width of 7mm. These stitches are printed on the front of the machine. The dial on the front of the sewing machine means you can select the stitch you need in seconds. The one-step buttonhole feature automatically adjusts size to fit your button, taking the stress out of sewing professional looking buttonholes.
Eight different presser feet mean you can complete a range of different projects without needing to buy any other accessories. Complete garment sewing, add zippers and hems to your projects as well as add buttonholes and create beautiful quilting projects. Other additional features include the automatic needle threader, which is essential if you struggle to see the eye of the needle when setting up your sewing machine. At the touch of a button the automatic needle threader will pick up your thread and pull it through the eye of the needle for you.
The Brother XR 3774 has some more great features that make it super easy to use. It has a top-load drop-in bobbin which has a clear casing meaning you can easily see if your bobbin is not installed properly or is running out of thread. The built-in free arm feature is perfect for sewing small cuffs, sleeves and hems when creating garments; never struggle to sew neatly round a small edge again. A bright LED bulb that shines light right on the needle and your work area means you can take part in your favorite hobby at any time of the day. The bright light also makes working on dark or delicate fabrics easier.
Use the quick start guide to help set up your sewing machine and get sewing in no time. You also get a full instruction manual to help solve any problems that may arise, this comes in both English and Spanish. The 25-year limited warranty give you peace of mind your machine will be looked after if you need repairs. Finally, this machine comes with Brother's at your side support, with helpful troubleshooting guides and tips in case you need help.
Product Features:
37 built-in stitches including basic, decorative, stretch and quilting stitches
800 stitches per minute
Auto-size buttonhole
Automatic needle threader and drop-in top bobbin
Includes eight sewing feet: zigzag, zipper, buttonhole, button sewing, narrow hemmer, quilting foot, walking foot and blind stitch foot
Can do free arm sewing
Has a sewing light
Has a detachable extension table for sewing large projects
25 year limited warranty
Brother XR3774 Sewing and Quilting Machine Review
Brother makes some of the best sewing machines, known for their quality and performance, and the Brother XR3774 fits that role beautifully. It's great for ease of use, especially if you are used to sewing with older mechanical sewing machines. It has tons of newer user friendly features like the drop in top bobbin, bright LED light, and the detachable extension table. This inexpensive sewing machine is great for beginner sewers and more advanced, casual sewers. It can handle most clothing sewing, home decor, and some quilting projects with ease. It has a relatively lightweight design, so is a good choice to take to a sewing class or a quilting session.
Advanced sewers might find this Brother machine too basic for their needs. It can sew well, but it doesn't have the advanced features that you may need. For large-scale projects or extra features like machine embroidery you would want to consider a more specialized sewing machine like a dedicated quilting machine or embroidery machines.
Overall the Brother XR3774 is the perfect choice for a new or more casual sewer who is looking for a great budget sewing machine.
Brother XR3774 Review FAQ
What presser feet are included with the Brother XR3774 sewing and quilting machine?
The Bother XR3774 sewing machine comes with 8 different sewing feet as standard. For a sewing machine at this price point that is a significant number of accessories to be included.
The presser feet included are:
Zigzag Foot – used for most sewing tasks
Buttonhole foot– used to make a perfectly sized buttonhole, created by placing your button in the back of the foot
Button sewing foot– this foot holds your button in place while the machine stitches it securely
Walking foot– helps to sew bulky layers at the same time; perfect for quilting or slippery projects
Zipper foot– used to sew on zippers
Blindstitch foot- helps create blind hems which is very useful when sewing garments
Quilting Foot – used for free-motion quilting
Narrow Hemmer Foot – helps create a narrow hem on the edge of garments by folding over the fabric edge and stitches it flat
You can purchase additional presser feet if needed. Universal feet can be bought that will be compatible with your machine, just make sure they are 'low-shank' presser feet.
Can You Quilt with The XR3774 Sewing Machine?
Yes, you can use the XR3774 sewing machine for quilting projects. However is it not a specialised quilting sewing machine it does have some features that make it a good affordable choice for anyone wanting to start quilting.
The XR3774 comes with a detachable wide table giving you a larger workspace for quilting projects along with a quilting foot and walking foot.
There are some limitations to this sewing machine when quilting such as the throat space. It is not spacious, so adding quilting to a thick quilt with many layers of fabric may prove tricky. The feed dogs also do not drop down on this sewing machine which is a handy feature to have but you can add a darning plate to cover the feed dogs, enabling you to create free-motion quilting designs.
Can you do free motion embroidery with the Brother XR3774?
You cannot drop the feed dogs with the Brother XR3774, so you would need to use a darning plate to cover them in order to do free motion embroidery on the Brother XR 3774.
Does the brother XR3774 have an automatic needle threader?
Yes, the Brother XR3774 comes with an automatic needle threader, making setting up your sewing machine quick and easy. Never again get frustrated trying to get your thread through the eye of the needle. With the touch of a button this sewing machine will catch the top thread for you and effortlessly pull it through the needle everytime.
What Fabrics Can This Brother XR3774 Machine Sew?
The XR3774 can sew through fabric such as denim and leather if the correct needle, thread and presser foot are used. This is also the same if wanting to sew through stretchy knit fabrics. Although the Brother XR3774 can sew through fabrics that are 6mm thick it is not made for prolonged heavy duty use. For extended sewing of thick fabrics like denim, canvas, and leather you should check out our reviews of heavy duty sewing machines.
How can I troubleshoot the Brother XR3774?
Fix common sewing machine problems using the online troubleshooting guides alongside your DVD and machine manual. This should help you fix most issues when using your sewing machine. If you are still struggling to solve a problem with the Brother XR3774 contact Brother customer support by clicking here.
What Accessories come with the Brother XR3774?
When you purchase the Brother XR3774 you will receive the following in the box:
8 presser feet
Wide table
Three-piece needle set
Twin needle
Screwdriver
Extra spool pin
Four bobbins
Darning plate
Quilting guide
Power cord
Machine cover
Foot controller
Instructional DVD
English/Spanish user manual
What type of bobbin does the XR3774 use?
The Brother XR3774 sewing machine uses SA156 bobbins in the USA which are class 15 type bobbins. In the UK SFB XA5539-151, bobbins are used. If other bobbin makes or models are used they may not work correctly in the sewing machine, may cause damage in extreme cases, or contribute to less-than-perfect stitches when sewing.
Metal bobbins should not be used in the Brother XR3774 sewing machine, they will damage the machine and void your warranty.
Where is the warranty for the Brother XR3774?
You can find the warranty information for the Brother XR3774 sewing machine here.
The warranty is only valid in the United States. Make sure to keep the original receipt safe as the warranty is only valid with the receipt.
What does the warranty cover?
The warranty covers the Machine, Consumables, and Accessories, this includes needles, light bulbs, presser feet, bobbins, knives, and tools.
What is the length of the Warranty Period?
The warranty period is one year from the purchase date of your sewing machine. Five years from the purchase date for the Machine's Printed Circuit Boards, and 25 years from the purchase date for the Machine's exterior casing.
In Summary
Thank you for reading our post about the Brother XR3774 Review. We hope you've found the review of the Brother XR3774 sewing machine useful, this is a great choice of sewing machine if you are a beginner or are looking for an affordable sewing machine with a variety of features.
The Brother XR3774 is lightweight, includes helpful automated features and includes a large amount of presser feet giving you flexibility in your projects without needing to purchase extra equipment.
Although this machines is not meant to be a quilting machine the wide table enables you to create larger projects and is a very useful feature of the Brother XR3774. Overall, we think the Brother XR3774 is a brilliant budget sewing machine that will help you begin your sewing or quilting journey
Related Posts