This Brother CS7000x review goes over the features and abilities of this computerized sewing machine. The Bother CS7000X is the much-anticipated upgrade to the Brother CS6000i and what an upgrade it is. Read the post to find out for yourself if this machine is right for you.
With more inbuilt features than you would ever need the Brother CS7000X is a brilliant choice if you are looking for a new budget sewing machine. The computerised LED display helps you set up your machine quickly at the beginning of any sewing project, configuring many settings automatically for you.
In this sewing machine review, you will find out what we think of the usability and additional features of the Brother CS7000X and answer some frequently asked questions to help you decide if this sewing machine will be the perfect addition to your craft room.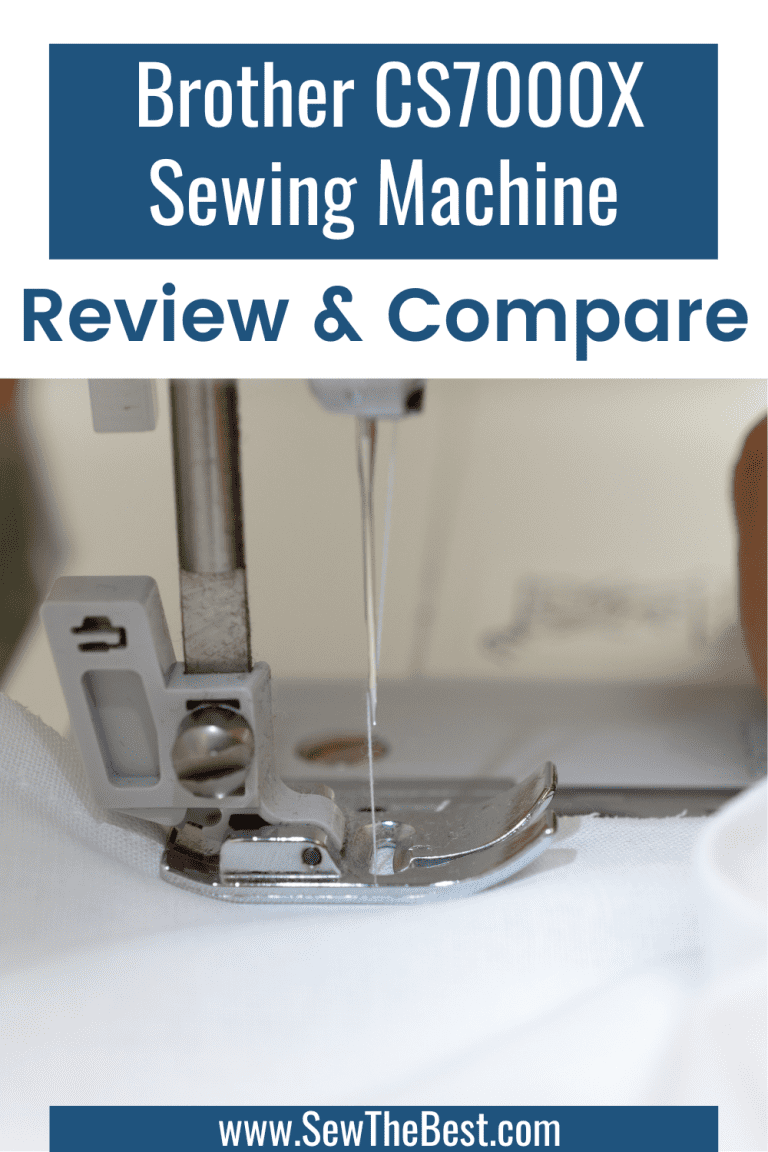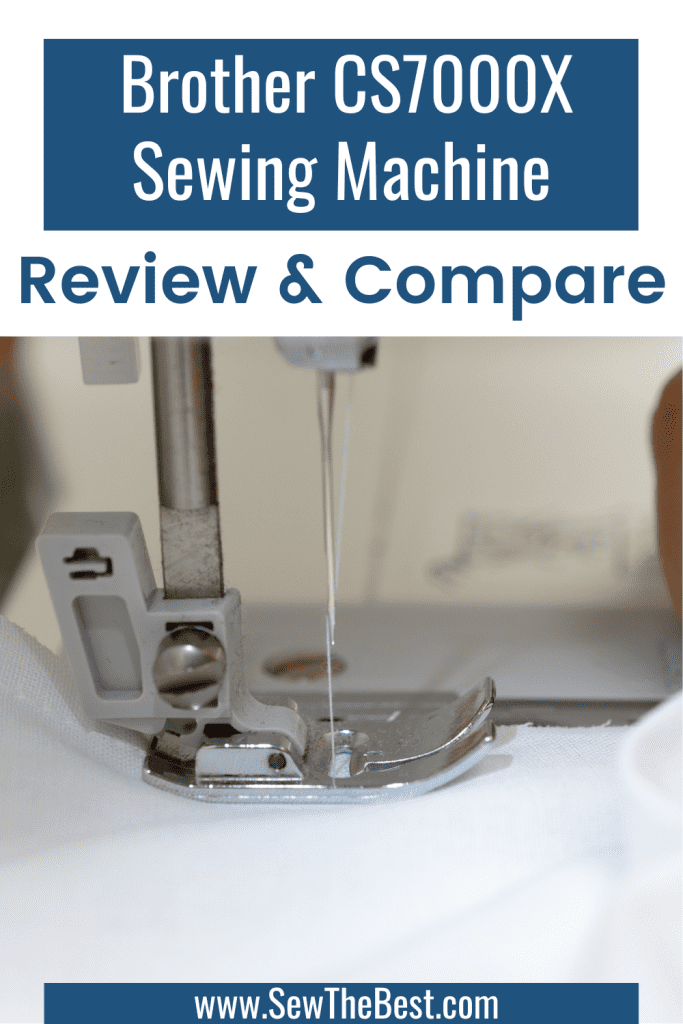 If you're in a hurry (or just curious!) –
✅ Check deals on the Brother CS7000X
Table of contents
About the Brother CS7000X Computerized Sewing and Quilting Machine
| Pros | Cons |
| --- | --- |
| Lightweight machine | Some find the LED light placement inefficient and want more light |
| 70 built in stitches | Not able to import new stitches |
| 7 one step auto-size buttonholes | No monogramming stitches |
| Drop in bobbin | |
| Adjustable max speed | |
| | |
Brother CS7000X Computerized Sewing and Quilting Machine Details
The CS7000X is an excellent sewing machine that includes all the features of a standard manual sewing machine but includes many extras as well as an LCD display screen to help make sewing simple and easy. This sewing machine is a good choice for general sewing projects as well as quilting and larger projects.
The Brother CS7000X sewing machine is designed with the end user in mind, its easy and convenient setup means you will begin sewing in minutes. Additional features include the LED display, high-quality automatic needle threader, easy-to-follow threading diagrams, top loading bobbin system, and adjustable sewing speed.
With 70 built-in sewing stitches, you will never worry that you won't have the stitch you need. The wide stitch selection includes decorative stitches, quilting stitches as well 7 different one-step, auto-size buttonholes, and button stitching. Choosing the stitches you need couldn't be easier as the sewing machine includes a handy guide printed onto the front of the machine. All you need to do is input the numbers into the LED display.
The Brother CS7000x is a computerized sewing machine and can feel much easier to use than a manual sewing machine, which can sometimes feel clunky in its setup. When selecting the stitch on this computerized sewing machine, the stitch length and width are defaulted for you.
Impressively when you select your stitches the LCD screen will show you a letter to help you select the correct presser foot before you start sewing. The different presser feet include a zigzag foot, overcasting foot, buttonhole foot, button sewing foot, zipper foot, blindstitch foot, 1/4″ foot, monogramming foot, walking foot, and a quilting foot.
Use the free arm feature to help you quickly sew cuffs, sleeves, and round hems with ease. The drop feed capabilities enable you to take part in free motion sewing, great for appliques and creative quilting designs. The detachable wide table makes working on larger projects a breeze, giving you more working room and movability. The hard protective outer casing makes the machine hardwearing and easy to transport.
Use the quick start guide to help set up your sewing machine and get sewing in no time. You also get a full instruction manual to help solve any problems that may arise, this comes in both English and Spanish. The 25-year limited warranty gives you peace of mind your machine will be looked after if you need repairs.
Product Features:
Metal frame
70 built-in stitches
7 one-size auto buttonholes
Dual LED lights
Can do free arm sewing
Improved automatic needle threader
Drop in top bobbin
10 sewing feet included: zipper foot, zigzag foot, walking foot, quilting foot, blindstitch foot, 1/4" foot, overcasting foot, monogramming foot, buttonhole foot and button sewing foot
Detachable extended sewing table
Brother CS7000X Computerized Sewing and Quilting Machine Review
Overall, the Brother CS7000X is a great sewing machine. Brother in general makes good machines, and this one is definitely a quality machine. It is super easy to use, has a lot of convenient features that you often only find on more expensive machines, and overall just performs really well. If you are looking for a entry level computerized sewing machine that you can grow into, this is a good option.
This machine is a perfect beginner sewing machine. Being able to throttle the max sewing speed is huge for beginner sewers who may struggle with juggling the sewing speed, keeping their material lined up, and keeping their fingers out of the way. Having the machine default the stitch width and length for each stitch is also an amazing feature for new sewers. Setting up stitches on a mechanical sewing machine can be tricky. Having a computerized machine just handle it for you is amazing.
For more advanced sewers, you are going to love the one-touch auto size buttonholes. Being able to select a buttonhole style and just push a button is truly magical. Drop in top bobbins are another great feature if you are upgrading from an older machine. Also, being able to quickly switch from one stitch to another and have defaults set so you can just sew is amazing.
In general, this machine is well loved. The one main piece of advice that I can give you with it is to be sure to read the manual. People who struggle with this machine generally didn't read the manual.
Comparing the Brother CS7000x vs Brother CS6000i
Brother CS Quick Feature Compare Table
Features
Brother CS6000i Sewing Machine
Brother CS7000x Sewing Machine
Built In Stitches
60 built in stitches
70 built in stitches
Weight
13lbs
10.5lbs
One-Step Buttonholes
7 styles of one-step buttonhole
7 styles of one-step buttonhole
Sewing Speed
850 stitches per minute
750 stitches per minute
Free Arm Sewing
yes
yes
Automatic Needle Threading
yes
yes
Bobbin Type
Drop in bobbin
Drop in bobbin
Presser Feet
Walking foot
Zigzag foot
Spring action quilting foot
Zipper foot
Overcasting foot
Monogramming foot
Blind stitch foot
Buttonhole foot
Button sewing foot
Walking foot
Zigzag foot
Spring action quilting foot
Zipper foot
Overcasting foot
Monogramming foot
Blind stitch foot
Buttonhole foot
Button sewing foot
Adjustable Presser Foot
yes
yes
Adjustable Feed Dogs
yes
yes
Adjustable Max Sewing Speed
yes
yes
Metal frame
yes
yes
LED light
yes
yes
Warranty
25 year limited warranty
25 year limited warranty
✅ Check Price
✅ Check Price
* Differences bolded.
Brother CS7000x Review FAQ
What presser feet are included with the Brother CS7000X sewing and quilting machine?
The Brother CS7000X comes with 10 presser feet as standard.
The presser feet include:
Zigzag foot- used for most sewing tasks
Overcasting foot- helps to neaten fabric edges and create seams when using the overcasting stitch
Buttonhole foot- used to make a perfectly sized buttonhole, created by placing your button in the back of the foot
Button sewing foot- this foot holds your button in place while the machine stitches it securely
Zipper foot- used to sew on zippers
Blindstitch foot- helps create blind hems which are very useful when sewing garments
1/4″ foot- helpful to create perfect 1/4″ seams, usually used when quilting
Monogramming foot- used with decorative stitches
Walking foot- helps to sew bulky layers at the same time; perfect for quilting or slippery projects
Quilting foot- used for free-motion quilting
Are Computerised sewing machines any good?
Computerized sewing machines are extremely popular with both beginner and experienced sewists. Although the LED display can appear daunting to a beginner the computersized help some LED displays give during troubleshooting can definitely be more of a help than a hindrance.
Computerized sewing machines offer all the main features of a manual sewing machine but their computerized elements allow better speed control, and quickly set up extra features.
Does the Brother CS7000X have adjustable sewing speed?
Yes. The Brother CS7000X has a slider for adjusting the max sewing speed. This adjustable sewing speed control is in addition to the foot pedal that you can use to control the sewing speed. Being able to reduce the maximum speed is a really nice ease of use feature for new sewers. It means that they can cap the speed so the machine doesn't run away with their project on accident.
Does the Brother CS7000X have an automatic thread cutter?
No, the Brother CS7000x does not have automatic thread cutting. It does have a small cutting blade on the side of the machine for cutting threads, but you would need to lift your fabric and threads onto it for it to cut them.
Can you quilt with the Brother CS7000X?
Yes. You can quilt with the Brother CS7000X. This machine comes with a detachable extension table that makes it easier to work on large or bulky projects like quilts. The included walking foot is perfect for sewing multiple layers of fabric together. And with all of the unique built-in stitches, you have many great choices for stitching designs into your quilt. Larger quilting projects like full size blankets or larger may be troublesome on this machine since it doesn't have a larger throat like a dedicated quilting machine. However this machine does great on smaller quilts.
How can I troubleshoot the Brother CS7000X?
Fix common sewing machine problems using the Brother at your side online troubleshooting guides alongside your machine manual. This should help you fix most issues that you come across when using your sewing machine. If you are still struggling to solve a problem with the Brother CS7000X make sure to contact Brother customer support by clicking here.
What Accessories come with the Brother CS7000X?
When you purchase the Brother CS7000X you will receive the following in the box:
Sewing machine, power cord, foot controller
Wide table
Hard case
10 presser feet and quilt guide
Needle set, which includes a twin needle and ball-point needle
3 bobbins
Accessory pouch: extra spool pin, seam ripper, screwdriver, cleaning brush, eyelet punch, and L driver
User Manual
What type of bobbin does the CS7000X use?
The Brother CS7000X sewing machine uses SA156 bobbins in the USA which are class 15 type bobbins. In the UK SFB XA5539-151, bobbins are used. If other bobbin makes or models are used they may not work correctly in the sewing machine, may cause damage in extreme cases, or contribute to less-than-perfect stitches when sewing.
Metal bobbins should not be used in the Brother CS7000X sewing machine. They can damage the machine and will invalidate your warranty.
Can you sew leather with the Brother CS7000X?
Yes, you can sew a couple of layers of light weight leather with the Brother CS7000X. Make sure to use a leather needle, the appropriate thread, and take it slow. You do not want to force the machine through any material that it struggles with. If you are planning on sewing primarily leather, you would probably be betterserved with a heavy duty sewing machine or a leather sewing machine. Read our leather sewing machine reviews here.
Can you hem jeans with the Brother CS7000X?
Yes. The Brother CS 7000X can sew through a couple of layers of denim, more than enough to hem jeans. It can also sew through a couple of layers of canvas or other heavy material. As always, make sure you are using the appropriate needles and threads for your project, and do not force the machine to sew through anything that it is struggling with.
Where is the warranty for the Brother CS7000X?
You can find the warranty information for the Brother CS 7000X sewing machine here. The warranty is only valid in the United States. Please make sure when you purchase this machine that you buy a new machine from a licensed dealer – otherwise your warranty may not be honored.
Can you embroider with the Brother CS7000X?
You can create beautiful freestyle embroidery with the Brother CS7000X. This is a type of embroidery where you drop the feed dogs and manually move the fabric through the sewing machine as you sew. You can frequently see this type of embroidery decorating the tops of quilts. That said, the Brother CS7000X is not a computerized embroidery machine so it will not be able to automatically embroider projects for you.
What is the length of the Warranty Period?
The warranty period is one year from the purchase date of your sewing machine. Five years from the purchase date for the Machine's Printed Circuit Boards, and 25 years from the purchase date for the Machine's exterior casing.
Summary
We hope you've found the review of the Brother CS7000X sewing machine useful, we think that this sewing machine is great value for money, has a plethora of built in features that mean you can take on just about any sewing project and get the high quality results you want.
The amount of different stitches and accessories included in this sewing machine meaning you will never need to buy any extra tools or equpiment to complete your projects. This along makes the CS7000X worth buying.
Pair the amazing accessories with a sewing machine that is easy to set up and to use, we don't think you can find a better budget computerized sewing machine on the market today.
Related Posts