The Bother CS5055 is a great sewing machine to buy if you are looking for an easy-to-use, computerized sewing machine for your next sewing machine purchase. The bright LED screen enables users to make selections quickly and easily and helps you troubleshoot the machine with simple error codes that are easy to fix. Complete with a range of standard accessories you receive everything you need to get started sewing when you buy the CS5055 sewing machine.
In this review, you will find out more about what the Brother CS5055 sewing machine has to offer and our thoughts on its usability, durability, and value for money.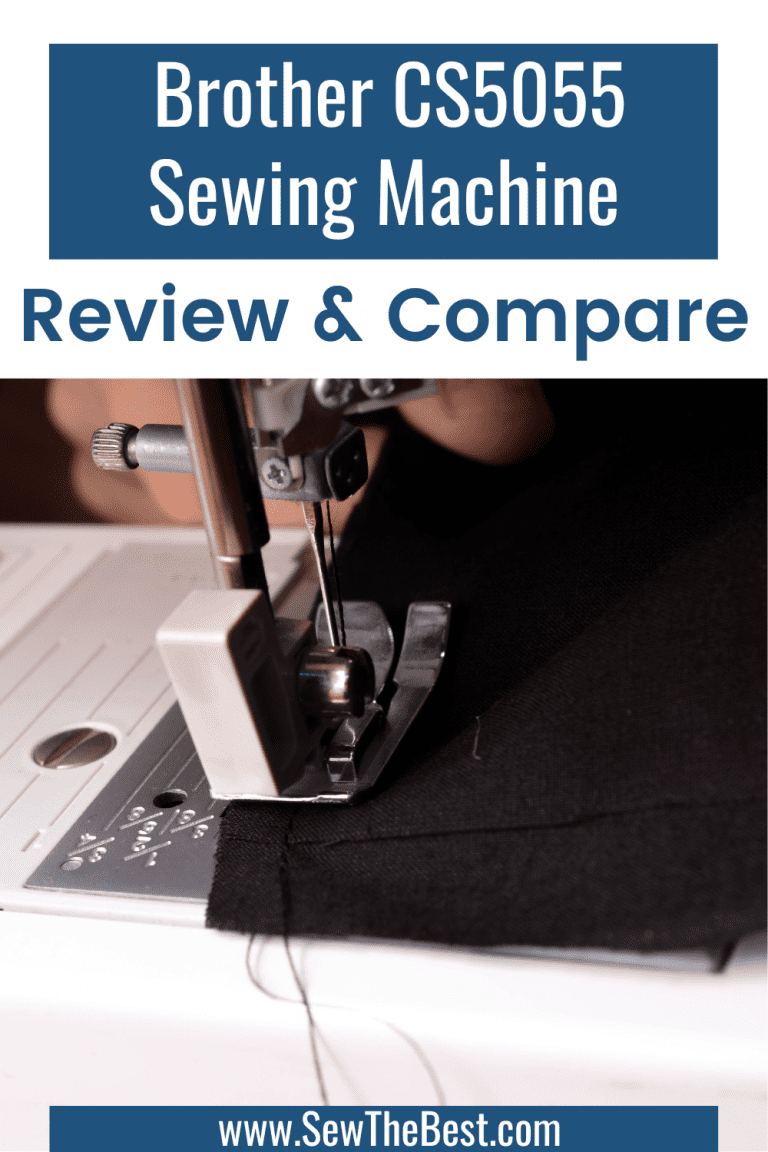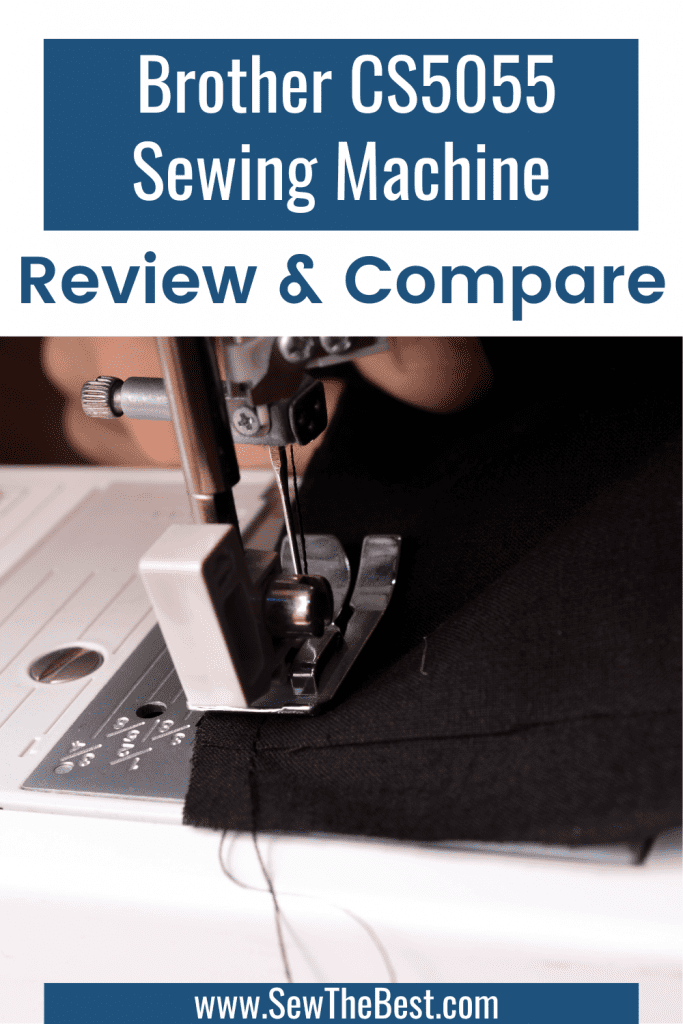 If you're in a hurry (or just curious!) –
✅ Check deals on the Brother CS5055
About the Brother CS5055 Computerized Sewing Machine
| Pros | Cons |
| --- | --- |
| Computerized sewing machine | Not able to add more stitches |
| 60 built-in stitches | No monogramming fonts |
| Durable metal frame | |
| 25 year limited warranty | |
Brother CS5055 Computerized Sewing Machine Details
The CS5055 computerized sewing machine is a great choice for both beginners and experienced sewers. It has a bright LED work area, a fast bobbin winding system, and a quick-set bobbin. You can choose from 60 different built in stitch functions, and the machine has a special feed system that makes sewing on thick fabrics much easier. Computerized sewing machines can be much easier to work with than manual machines. With a computerized sewing machine you select the stitch and the machine usually configures basic settings like stitch length, width, and thread tension for you. This sewing machine has a LCD screen. It comes with 60 built-in decorative stitches including 7 styles of auto-size buttonhole stitches. These stitches are all printed on the front of the machine, making it easy to select just the right stitch. And again, I can't say enough how great automatic buttonholes are.
This sewing machine can handle hemming denim, tweed and other thick fabrics. However, it is not a heavy duty sewing machine. If you are intending to sew multiple layers of thick fabric like leather, canvas, denim, or more you should look at purchasing a heavy duty machine instead. Here's where you can read our reviews of two great heavy duty machines, the Singer 4432 and Singer 4452. This Brother machine has an all metal frame. That helps make it more durable for long term use. It also makes the machine a bit heavier – which can be a good thing when sewing at high speeds! It makes the machine less likely to walk away from you when you are sewing quickly.
The Brother CS5055 comes with a drop in bottom bobbin and automatic needle threader. This sewing machine is also free-arm compatible meaning you can hem jeans with it or finish sleeve edges with ease. It comes with seven different presser feet – zigzag, overcast, monogramming, zipper, blind stitch, buttonhole, and button sewing.
Product Features:
Metal frame
60 built-in stitches
7 one-step auto-size buttonholes
Free arm capability
Automatic needle threader
Drop-in top bobbin
Includes 7 sewing feet
25 year limited warranty and Brother at your side support
Brother CS5055 Computerized Sewing Machine Review
Overall, the Brother CS5055 is a great sewing machine for the money. It's highly reviewed wherever you look, with it's great features and how easy it is to use. This is a great beginner sewing machine, with the computer automatically setting the default stitch tension, length, and width when you select a new stitch. I like the convenient stitch chart right on the machine, this makes it easy to select the right stitch to use. Advanced sewers may find this machine a bit basic, but a capable machine. It excels at mending, hemming, and other general sewing project. This is the perfect sewing machine if you are sewing clothes or home decor items like pillow cases and table runners.
The biggest challenges people seem to have with this sewing machine is learning to use it. Be sure to read the instruction manual, and maybe watch a video or two. Going from a traditional mechanical sewing machine to a computerized machine can be a bit of a learning curve. Ultimately, computerized machines are much easier to work with once you get used to them
The next biggest issue that people see is with defective machines. All new Brother sewing machines come with a 25 year limited warranty, provided you purchase the sewing machine through a licensed dealer. So be sure to verify that your machine will be coming with the warranty, and be sure to register the warranty after you purchase the machine.
Brother CS5055 Review & Compare FAQ
Is Brother a good supplier of computerized sewing machines?
Brother sewing machines are considered to be one of the top brands when looking to purchase an inexpensive sewing machine. They supply everything from beginner sewing machines up to more complex computerized embroidery machines. Brother sewing machines generally received high ratings in all areas and are viewed to be very competitively priced when compared to similar brands. They also come with a 25-year limited warranty to take the stress out of any repairs your sewing machine may need down the line.
Is the Brother CS5055 sewing machine beginner-friendly?
The Brother CS5055 has many features that make this sewing machine an excellent choice for beginner sewists. The computerized LED screen helps make the sewing machine more beginner-friendly, allowing the user to easily select stitches, as well as displaying troubleshooting codes to help you quickly fix problems.
Being able to create automatic buttonholes is also a great feature and takes the stress out of manually sewing your buttonholes in 4 steps. The automatic features ensure your buttonholes are uniform and professional-looking every time.
Is the Brother CS5055 a good sewing machine?
The Brother CS5055 is a good sewing machine for general sewing tasks like hemming, sewing clothes, and sewing home decor items like table runners and pillows. With it's bright LED-lit work area and range of professional features, it is a good basic sewing machine.
Is the Brother CS5055 good for quilting?
The Brother CS5055 has some quilting features such as the ability to drop the feed dogs to allow free-motion quilting. However, the CS5055 does not include a wide table to help sew larger projects. This can be purchased separately but can be quite expensive. The distance between the needle and the metal plate may mean you struggle to sew thicker quilting projects.
The CS5055 does have the option for you to buy specialized quilting feet separately to help sew your layers evenly.
Is the Brother CS5055 good value for money?
The Brother CS5055 is great value for money costing between $120 and $170 depending on where you purchase the machine.
For this price, you also get a decent amount of accessories included as standard.
Where can I find the manual for the Brother CS5055?
You can find the Brother CS5055 manual here. It is recommended that you read any manuals before attempting to operate your sewing machine. The manual will show you all the features of the Brother CS5055 sewing machine and how to use it correctly before you start.
Where can I find the warranty for the Brother CS5055?
You can find the warranty information for the Brother CS5055 sewing machine here. Make sure you register with Brother when you purchase this machine so that you can take advantage of the warranty if you need to. There is also an option to purchase an extended warranty which may be a good idea if you use your sewing machines frequently or for large quantities of work.
What is a computerized sewing machine?
Computerized sewing machines combine traditional sewing machines with technology. Many models have a digital LED panel with displays information for the user but a computerized sewing machine is more than that. They help control the stitching, threading, and overall movement of the sewing machine. Compare this to a mechanical machine where the user needs to manually adjust thread tension, stitch length, stitch width, presser foot pressure, and more for each stitch and fabric change.
Some computerized sewing machines can also be used as embroidery machines, which can create complex stitching designs anyone can program and sew. These sewing machines are programmed using a computer to create a range of intricate patterns and designs.
Computerized sewing machines are generally more expensive than traditional sewing machines as they contain more components and specialized parts. Although these sewing machines may appear more complex at first after reading the user manual and practicing sewing with these machines users will find generally find them easier to use than their traditional counterparts.
What Accessories come with the Brother CS5055?
Accessories list:
4 bobbins
Needle set
Ballpoint needle
L-shaped screwdriver
Bobbin case
foot controller
Operation manual
Quick reference guide
What presser feet come with the Brother CS5055?
Presser feet included:
Zigzag presser foot
Buttonhole foot
Overcasting foot
Monogramming foot
Zipper foot
Blind stitch foot
Button fitting foot
What type of bobbin does the CS5055 use?
The Brother CS5055 sewing machine uses SA156 bobbins in the USA which are class 15 type bobbins. In the UK SFB XA5539-151, bobbins are used. If other bobbin makes or models are used they may not work correctly in the sewing machine, may cause damage in extreme cases, or contribute to less-than-perfect stitches when sewing.
Metal bobbins should not be used in the Brother CS5055 sewing machine.
Can you embroider with the CS5055?
The answer is no, this sewing machine is not an embroidery machine. This may confuse some people as within the accessories you are given a monogramming foot which is primarily used for embroidery. The CS5055 sewing machine doesn't include alphanumeric stitches and isn't able to connect to a computer to load embroidery designs like you can on embroidery sewing machines.
However, with the ability to drop the feed dogs, you can use this machine for free motion embroidery, a type of embroidery where you manually move the fabric around to create your designs.
Can you sew thick fabrics with the Brother CS5055?
The Brother CS5055 can sew a few layers of denim, for instance to hem jeans. However much more than that and the machine is going to struggle. This machine is not designed for sewing thicker fabrics or heavy weight fabrics. For sewing leather, multiple layers of denim or canvas, and other tougher fabrics you would be better served getting a machine for sewing thick fabrics.
In Summary
The Brother CS5055 is an excellent sewing machine for the price. Including many features, this sewing machine is a great choice for beginners as well as experienced sewists. Get started on your journey or progress your skills with the help of the easy-to-use LED display screen and automated features such as stitch selection and buttonholes. This sewing machine includes everything to get started sewing with no need to purchase extra equipment before you start completing amazing garments and fabric products.
We hope our review of the Brother CS5055 has helped you decide whether this sewing machine is the right machine for you. A compact, sturdy sewing machine with simple, easy-to-use features, perfect for any sewing enthusiast.
Related Posts