Looking to buy a new embroidery and sewing machine? In this Brother SE600 review, you'll learn about all the great features you can find in this computerized sewing and embroidery machine. We'll also do a quick compare of it to the Brother SE625. The Brother SE600 is a great computerized embroidery and sewing machine with tons of great features and options. You can use this machine to create and customize beautiful sewing projects for yourself or others.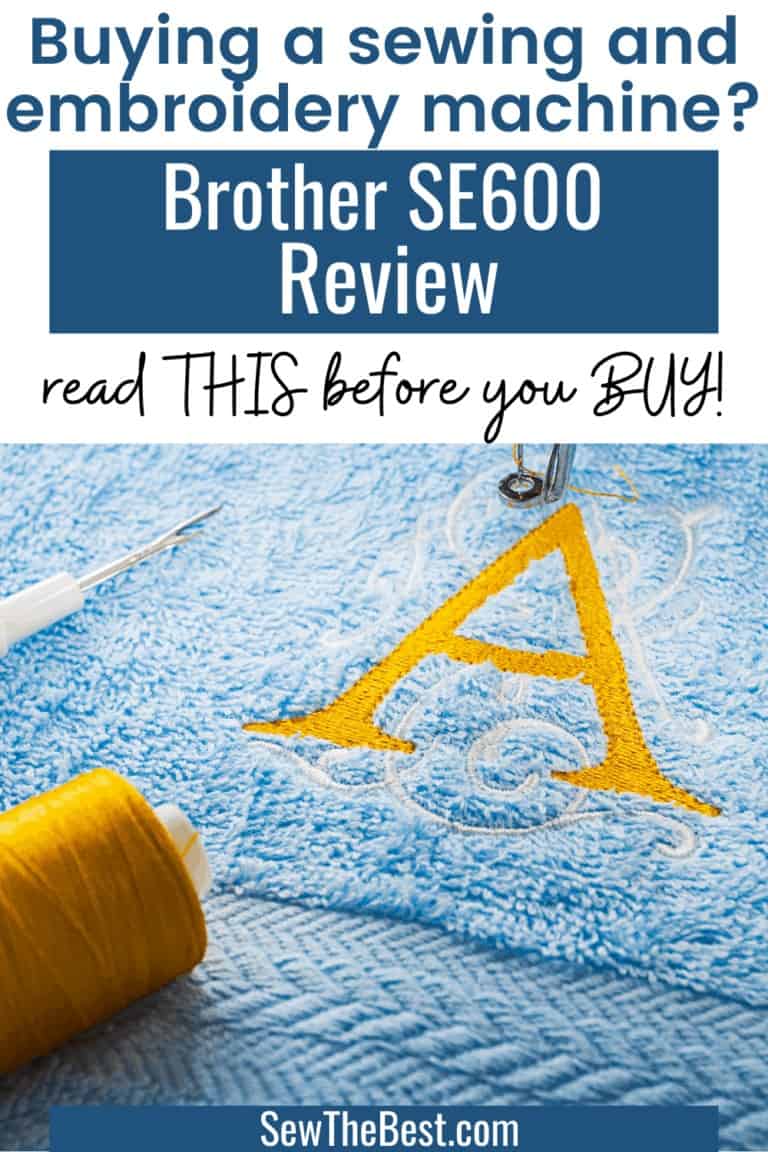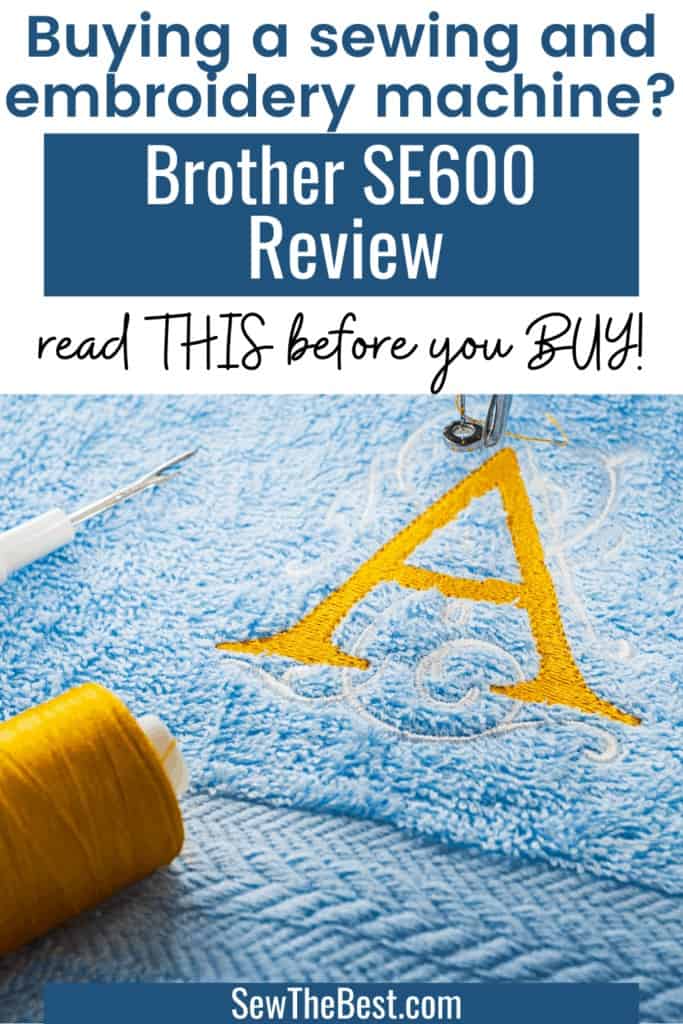 If you're in a hurry (or just curious!) –
✅ Check deals on the Brother SE600
About the Brother SE600 Sewing and Embroidery Machine
| Pros | Cons |
| --- | --- |
| Can sew and embroider | Max 4″ x 4″ embroidery hoop |
| 103 built-in sewing stitches | Can be complex to use – read the manual |
| 80 built in embroidery designs | |
| USB transfer to add new designs | |
| Full color LCD touchscreen | |
| 25 year limited warranty | |
Brother SE600 Sewing and Embroidery Machine Details
The Brother SE600 computerized sewing and embroidery machine combines two popular features into one device. This combo machine has many great features that allow to to create beautiful sewn and embroidered projects. This machine comes with a 4″ x 4″ embroidery hoop and 80 built in embroidery designs. With the large color touchscreen, you can easily drag and drop embroidery designs to plan your final look. You can also rotate, resize, and change the display colors of designs easily to fully customize your embroidery. This feature allows you to completely preview what your design will look like without sewing a stitch! You can even use the touchscreen to create arced letter designs quickly and easily.
With the Brother SE600 it is simple to add more embroidery designs to the machine. New designs must be in the .PES file format for this machine to be able to use them. Once you've found suitable designs (for instance from iBroidery), place them on a USB dongle then use that to transfer the files over.
In addition to creating beautiful machine embroidery, the Brother SE600 is also a fully functional sewing machine. This computerized sewing machine comes with 103 different built in stitches. This includes eight different styles of one-step auto-sized buttonholes. This machine is capable of free arm sewing, allowing you to easily sew smaller parts like hemming pants, finishing sleeve edges, insetting sleeve caps, or sewing clothes for children. The SE600 has a no-jam drop in top bobbin and automatic needle threader. This makes getting ready to sew super easy – and no more eye strain trying to thread the needle! The machine will also track how much bobbin thread you have left, and automatically stop when you run out. I don't know about you, but it's always so frustrating when keep sewing after the bobbin thread has ran out. This Brother sewing machine has a bright LED light in the work area, making it super easy to see what you are working on. It can sew at 710 stitches per minute, or you can use the sliding speed controller to reduce this speed for fine control.
This machine includes many different accessories, including a sewing foot pedal for sewing. It also has many different presser feet like the spring action zigzag foot, buttonhole foot, overcasting foot, monogramming foot, zipper foot, blind stitch presser foot, and button sewing foot. It also comes with a 4×4 embroidery hoop and a CD of embroidery designs. This machine also comes with Brother's 25 year limited warranty and at your side support.
Product Features:
Computerized sewing and embroidery machine
80 built-in embroidery designs
Easy USB transfer to add your own embroidery designs
6 embroidery lettering fonts
103 built-in sewing stitches
3.2″ full color LCD touch screen for on-machine editing
Eight different auto-size buttonholes
Large 6.4″ x 4.1″ needle-to-arm throat for sewing large projects
Max 4″ x 4″ embroidery area
Automatic needle threader
Drop in top bobbin
Can do free arm sewing
25 year limited warranty
Brother at your side support
Brother SE600 Review
The Brother SE600 computerized sewing and embroidery machine is a great machine. It has many convenient features that make using it super easy. It comes with a full color, backlit LCD touchscreen display that makes it a snap to pick your stitch setting or design your embroidery. This machine can even tell you how long it will take to stitch and embroidery area so you do not have to watch for it to be done. If you have to turn the machine off mid-embroidery, it can even remember where you were when it starts up again. In general, the Brother SE600 is a great sewing and embroidery machine that is worth the money.
This sewing and embroidery machine would be suitable for both beginner machine embroiderers and more advanced users. Beginner embroiderers are able to watch the instructional videos then start stitching their own embroidery projects within 30 minutes! More advanced embroiders will love the drag and drop convenience of the LCD display as well as the ability to resize, rotate, and modify designs right there on the machine. The most important thing to remember with this machine is to read the instructions. The Brother SE600 can create beautiful designs, but it needs you to read the instructions and use it properly.
You'll want to keep an eye on the price when you buy this Brother machine. It spiked recently with a demand for sewing machines. Also, make sure that you are purchasing a new machine. Refurbished devices can often have lingering issues and they will not be covered by the Brother 25 year limited warranty. Another important tip is to make sure that you are buying from a licensed Brother dealer.
If you are looking for a great embroidery machine that can also sew, the Brother SE600 is a great choice.
Common questions about the Brother SE600
Can the Brother SE600 hem jeans?
The Brother SE600 can hem jeans. Keep in mind though, that this is not a heavy duty sewing machine made for sewing denim and canvas. It can sew through a couple of layers of denim, but you would want to make sure that you have a sharp denim sewing needle and the appropriate thread. Take it slow while sewing the denim, and if the machine resists listen to it and stop.
If you are planning on sewing heavier weight materials frequently, you would be better served by a heavy duty sewing machine. Check out our reviews of the best heavy duty sewing machines to find one.
Can you sew with the Brother SE600?
The Brother SE600 sewing and embroidery machine can indeed sew. This machine comes with 103 different built in stitches for general sewing needs. You can use it to sew clothing, home decor items, and more. Then when you are done sewing you can add the embroidery components and customize your work with machine embroidery. Note that this machine is not a heavy duty sewing machine, so you would not
What is the hoop size of the Brother SE600?
The Brother SE600 has a maximum hoop size of 4″ x 4″. There are larger hoops available to purchase, but this machine's embroidery computer is only capable of using a 4″ x 4″ embroidery space. If your project is larger than 4″ x 4″, this means that you would have to move the embroidery hoop around to complete different parts of your project and enlarge the embroidery field area.
Does the Brother SE600 come with a warranty?
The Brother SE600 comes with a 25 year limited warranty and Brother at your side support. The Brother at your side support allows you to call Brother's support line if there is any issue with your machine. Can't remember how to thread it or getting a weird message? Call the Brother support line and they can help walk you through troubleshooting the issue. Make sure you fill out the warranty card when you get this machine, "just in case".
Does Brother make good sewing machines?
Brother sewing machines are a highly rated sewing machine brand known for their quality sewing machines that are feature rich. Brother sewing machines are usually competitively priced with cheaper sewing machines. With all of the features available on Brother sewing machines, they often are better than the competition.
Brother sewing machines also come with a 25 year limited warranty and Brother at your side support. This means that if you do happen to get a defective sewing machine, it would be covered by Brother's warranty.
One thing to be aware of with Brother sewing machines is that a lot of the parts can be plastic. Keep this in mind when you are sewing heavier or thicker materials. Do not force the machine through heavier or thicker material, you run the risk of breaking it. Breaking your sewing machine by forcing it through thick or heavy fabric would not be covered by the warranty.
Is the full color LCD screen of the Brother SE600 worth it?
The Brother SE600 comes with a large, full color LCD screen. This screen is super sharp and displays what the sewing machine is doing in crisp detail. Having such a large full color screen like this allows the sewing and embroidery machine to have tutorials stored on the machine itself for easy reference. The full color LCD screen of the Brother SE600 also allows you to view your embroidery patterns in high detail. You can use the LCD screen to maneuver, rotate and even change the colors in your pattern before you start to embroider it. This lets you better preview a work before sinking time and materials into it.
Being able to preview your thread colors on this LCD screen is amazing. Yes, your thread colors may look great side by side, but how do they look actually *in* the pattern? Sometimes, a color may not pop enough, or may clash with it's neighbor. This used to be hard to tell until your embroidery work was completed. Now you can just preview all of the colors on the full color screen and know what a design will look like before even sewing a stitch.
The full color LCD screen is totally worth it and is the best feature on this combo machine.
What's the difference between the Brother SE625 and SE600 embroidery machines?
There are very few differences between the Brother SE625 vs SE600 sewing and embroidery machines. These are basically the exact same machines. The colored design on the fronts of the machines are different. The Brother SE625 is a gold / tan color, and the Brother SE600 is silver / grey. Another difference between the two machines is that the Brother SE625 comes with the CD with 200 additional embroidery images. These bonus images are nice, but having them on a CD can be an issue if your computer does not have a CD reader. Since the SE625 has a USB port, these images would need to be transferred off of the CD onto a USB dongle in order to be transferred onto the embroidery machine. Keep in mind that these additional designs are licensed for personal use – not commercial use. So you would not be able to use them on any project you plan on selling.
These are the only differences between the two machines. When comparing these two machines to determine which to buy, take a look at the CD of additional images and see if there are any you would use. Then compare the price of the two machines to see if those images are worth it to you. Remember – you can also find additional embroidery images at iBroidery.
Read our full Brother SE625 review for more details about this great machine!
Can the SE600 Brother Sewing and Embroidery machine do free arm sewing?
Yes, the Brother SE600 can do free arm sewing.
Free arm sewing is where you can remove part of the base of the sewing machine to create a smaller, open bottomed sewing area. This much smaller area allows you to wrap small tubular items you are sewing around it. Instead of trying to wrestle a sleeve or pants hem flat to sew it, you can just put it around the free arm area and sew straight. Free arm sewing is really convenient for sewing sleeve cuffs, set in sleeves, pants hems, kids clothes, and more.
Can you add any image to the Brother SE600 to embroider?
You can add any image that is formatted to a .pes, .phc, or .dst design to the Brother SE600 to embroider. So your basic image formats will not work to embroider from. It has to be a .phc, .dst, or .pes format file. This can make it hard to import your own designs onto this machine. Images must first be converted to the appropriate design file type. Instead, you can find many wonderful designs online to purchase for your new Brother machine. Just make sure you are downloading from a place that you trust. iBroidery is a good resource for finding many great embroidery designs. Once you download your designs, you would use the onboard USB port and a USB stick to transfer them.
Keep in mind that the Brother SE600 embroidery machine only comes with a 4×4 embroidery hoop. If your pattern is larger than this you will either need to resize the pattern, reposition the hoop at some point, or buy a larger embroidery hoop for your project.
You can also import decorative stitches into the Brother SE600 sewing machine. These stitch files must be formated as .pmx, .pmv or .pmu format. These files are treated slightly differently, .pmu and .pmx files are read only. Files that are .pmv are both read and writable. This allows you to modify or create your own stitches on the machine.
What items do I need to embroider on an embroidery machine?
To get the best results when you embroider on an embroidery machine you'll need a couple of specialized supplies. Specifically, you will want machine embroidery thread and fabric stabilizer. Machine embroidery thread is not like the hanks of embroidery thread that you see in the craft store. Machine embroidery thread is on spools like sewing thread. This thread is often rayon or polyester, making it more glossy than normal sewing thread. Machine embroidery thread is often 2-ply. Normal machine sewing thread is often 3-ply. This difference means that embroidery thread cannot stretch along it's length or endure rubbing as well as sewing thread. Keep this in mind if you are tempted to sew with your embroidery thread – your project will not be as durable. There is not a specific "Brother SE600 embroidery thread", any embroidery thread would work in this machine. If you find that your threads are snapping too much or not giving the results you want, try a different brand. Often different machines can work slightly differently with different brands of thread.
Another item you will need to embroider successfully is fabric stabilizer. Fabric stabilizer does what the name implies, it stabilizes the fabric so that it is less prone to shifting and warping while you are working with it. Fabric stabilizers come in many different weights and thicknesses. You'll want to play with it a bit to figure out what's appropriate for your fabric. If you get tear away stabilizer, you can easily remove it after your embroidery design is completed. Tear away stabilizer can make embroidering on fuzzy materials like terrycloth much easier.
Can you sew leather with the Brother SE600 computerized sewing machine?
The Brother SE600 can sew through very light leathers and fake leathers. The most you would want to attempt to sew would be lightweight suedes or pleathers that are about the same weight as denim. When sewing leather with the Brother SE600 (or any other sewing machine), make sure that you are using a fresh, heavy duty sewing needle that is designed for sewing leather. This will improve the machine's performance and your final result. If the machine is struggling to sew the material, stop. Do not try to force the machine through the material if it is stalling or hanging, you can damage the machine. Any damages from sewing too thick of a material would not be covered by your warranty and you would have to pay for.
Can you quilt with the Brother SE600?
The Brother SE600 can be used to create beautiful quilts. This machine is not a quilting specific machine, but adding a darning or walking foot to it would allow you to do free motion quilting. This machine also has a ton of decorative sewing stitches that would look beautiful on a quilt. This machine comes with a slightly larger throat than normal, making it easier to pass bulky quilts or large projects through the machine.
That said, this machine does not have many of the features that a dedicated quilting machine has. These features can make quilting much easier. So if you find you are doing a lot of quilting you might want to think about getting a dedicated quilting machine.
What size bobbin does the Brother SE600 use?
The Brother SE600 uses plastic SA156 class 15 bobbins. You can find the bobbins for sale here. You should only use these bobbins with this sewing machine. Using the wrong size bobbin can damage your sewing machine, causing it to need costly repairs. You could also just end up with repeated tangles and bird's nests under your sewing machine. These are never fun to clean up, so make sure to use the correct bobbin type!
Can I use a metal bobbin with the Brother SE600?
No, you do not want to use a metal bobbin with the Brother SE600. Using a metal bobbin with this sewing and embroidery machine could damage it, leading to costly repairs. You will also invalidate the warranty by using a metal bobbin in the embroidery machine. This means fixing any damages caused by using a metal bobbin would have to be paid for by you!
Does the Brother SE600 come with a case?
The Brother SE600 comes with a soft dust cover to protect it. This Brother sewing and embroidery machine does not come with a hard case. If you want a hard case, you would have to buy a case separately for this machine. Sewing machine cases are designed for the dimensions of most sewing machines – not embroidery machines. So if you wanted to carry or store your Brother embroidery machine in a case you have to detach the embroidery extensions from the machine in order for it to fit into a standard case.
What accessories come with the Brother SE600?
4″ x 4″ embroidery hoop
Spring action foot
Zigzag foot
Buttonhole foot
Overcasting foot
Monogramming foot
Zipper foot
Blind stitch foot
Button sewing foot
Instruction manual
Four bobbins
Seam ripper
Basic needle set
Ball point needle
Twin needle
Screwdriver
Three spool caps
Extra spool pin
Three pre-wound bobbins with embroidery thread
Power cord
Accessory pouch
What other accessories can I purchase for the Brother SE600?
There are many other accessories that you can purchase for the Brother SE625. Additional presser feet, embroidery thread, larger embroidery hoops and more. You can view a full list of compatible accessories on Brother's site here.
Does the Brother SE600 have automatic needle threading?
Yes! This combination machine does have automatic needle threading. Gone are the days of squinting at the needle eye and trying to get your thread through it. Simply run the thread through the machine to the automatic needle threader, press the button and let it go – and voila! Your sewing machine is threaded and ready to go. Having an automatic needle threader is one of those amazing features that you don't realize how much you need it until you have it.
Video of the Brother SE600 Sewing and Embroidery Machine
In summary
Related Posts