Are you in the market for an embroidery machine with a wide range of features, superior embroidery capabilities, and an all-around great price? If so, you may want to read our review of the Brother PE900 embroidery machine. In this blog post, we will take a detailed look at the features and specs of this popular machine, as well as give our opinion on its performance. So, if you're looking for a reliable, feature-packed embroidery machine, read on to find out more about the Brother PE900.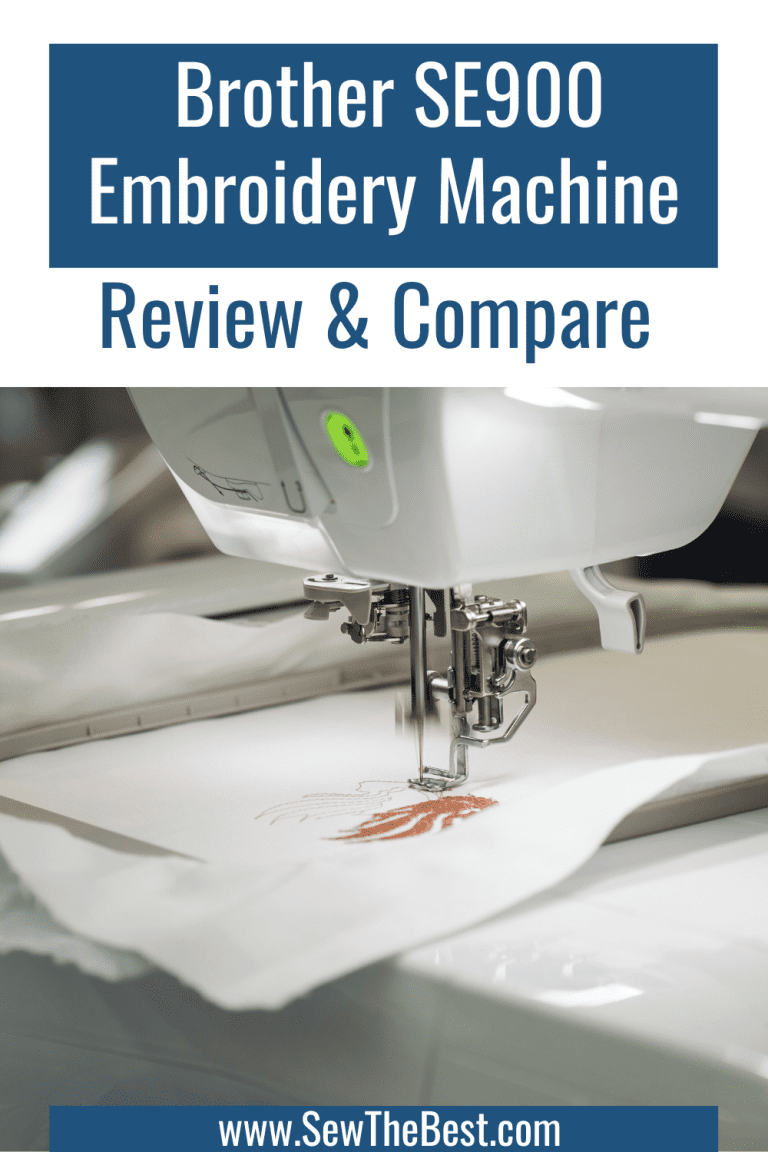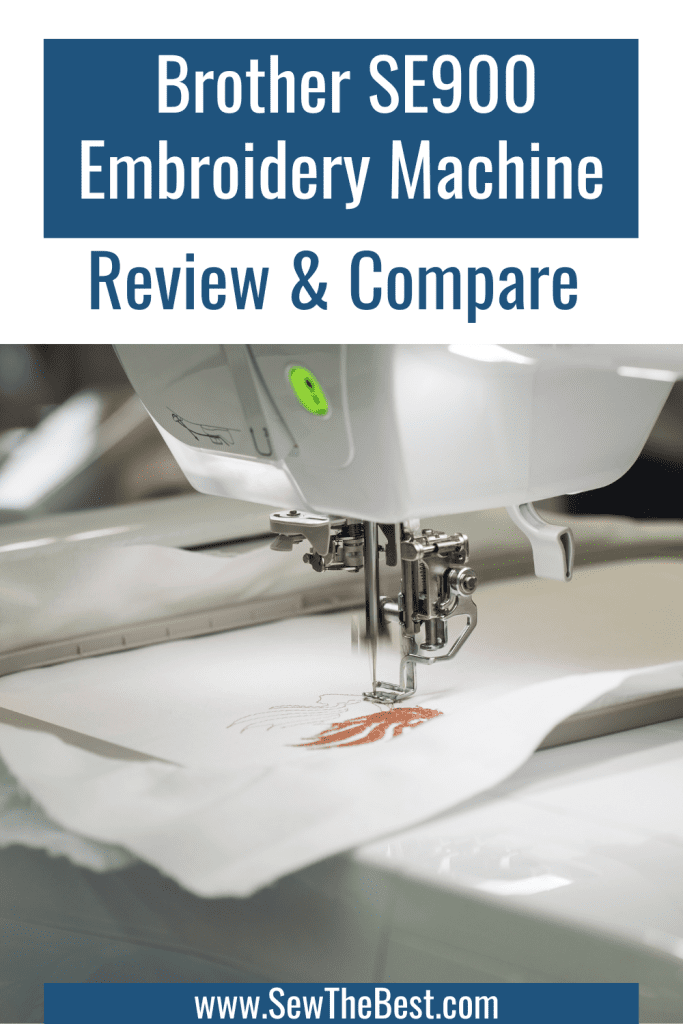 If you're in a hurry (or just curious!) –
✅ Check deals on the Brother PE900
About the Brother PE900 Embroidery Machine
| Pros | Cons |
| --- | --- |
| 193 built-in embroidery designs | Embroidery only machine |
| Import new designs via Wifi or USB | Single color at a time |
| Large 5″ x 7″ embroidery field | USB can be fiddly |
| Automatic jump stitch trimming | |
| Artspira app for creating your own embroidery designs | |
Brother PE900 Embroidery Machine Details
The Brother PE900 is a dedicated embroidery only machine. This machine can make really beautiful machine embroidery and is perfect for customizing your sewing projects. It has a lot of amazing features that make it super easy to use. It has a drop-in bottom bobbin, needle up / down button, and a thread cutter button. It also has an advanced automatic needle threading feature, making it super easy to thread this machine. The large 3.7″ full color LCD touchscreen is gives you easy on-screen instructions for how to complete most tasks. You can also use the screen to adjust and tweak your designs prior to editing. You can change the colors of your designs, rotate, flip, and resize them – then preview all of your changes before you ever sew a stitch. You can also use the color sort feature to make sure the machine minimizes color changes. Since this is a single color embroidery machine, it will not automatically change colors for you, you have to manually change the embroidery thread color. So minimizing the color changes on multi-color embroidery designs increases your embroidery speeds. It comes with a wide array of patterns, and has a USB port and wifi capability for adding even more designs. It even has 13 different built-in embroidery fonts, perfect for monogramming work.
The Brother PE900 is an amazing leap in embroidery machine technology and features. It has all of the features of the Brother PE800, plus the ability to transfer files via wifi. With how common wifi has become this is an amazing new feature on this machine, allowing you to stop transferring embroidery designs via USB. It also the ability to integrate with their new app for designing your own patterns. Another great new feature is the ability to automatically trim jump stitches; the unwanted thread joiners between two sections of the same embroidery color. These two features alone are amazing, but add in all of Brother's amazing embroidery machine technology – automatic needle threaders, the ability to preview and adjust your designs on the large color touchscreen, and the large hoop size allowed on this machine. This is truly an amazing embroidery machine that would serve both beginner machine embroiderers and more advanced embroiderers well.
Product Features:
Computerized embroidery only machine
193 built-in embroidery designs
13 different built-in font styles
Import new designs via Wifi
Large 3.7″ color touchscreen
Large 5″ X 7″ Embroidery field
650 stitches per minute
Automatic needle threader
Automatic jump stitch trimming
Drop in top bobbin
Dust cover included
25 year limited warranty with Brother at your side support
Brother PE900 Embroidery Machine Review
The Brother PE900 is easy to use and has a variety of features that make it a great choice for any embroidery enthusiast. The stitch quality is outstanding and there are a large selection of designs and fonts to choose from. The jump stitch trimming feature is really amazing. If you've spent any amount of time cutting jump stitches by hand, you know how much of a hassle it is. Having the Brother PE900 trim those threads for you is life changing if you embroider a lot. The machine also has a built-in USB port for easily transferring new designs. The USB can be a bit finicky, and you may have to re-plug in your USB stick a few times to get it to recognize. That said, this machine also has Wifi that you can use to transfer new embroidery files to it. Who needs to hunt for a USB stick when you can just transfer files with a few mouse clicks? Overall, the Brother PE900 is super easy to use, has a ton of amazing features, and is backed by both Brother at Your Side support and the 25 year limited warranty. The Brother PE900 is one of the best brother embroidery machines and I highly recommend the Brother PE900 embroidery machine for anyone looking for an excellent embroidery machine.
Compare – Brother PE900 VS Brother SE1900
The Brother PE900 is Brother's latest dedicated embroidery machine and the Brother SE1900 is Brother's latest sewing and embroidery machine. How do these two machines stack up? Let's take a look.
To start, both machines are capable of making very beautiful machine embroidery. The Brother PE900 has more built in embroidery designs and monogramming fonts, but that's to be expected with an embroidery only machine. Both machine have a large, full color touchscreen for adjusting and previewing your embroidery designs. Both machines also come with a 5″ x 7″ embroidery hoop. Both the Brother SE1900 and PE900 have a USB port for transferring new designs onto the machines.
That's about where the similarities end with these two machines. The Brother PE900 has a couple more advanced features up it's sleeves. Namely, it has the ability to use Wifi to transfer new designs to the machine. The Brother PE900 also has automatic jump stitch cutting – a real boon if you embroider a lot. The Brother SE900 in contrast can both sew and do machine embroidery. That makes this machine much more versatile -being able to sew clothes, quilts, and more. It also has the My Custom Stitch feature which allows you to create and save custom stitches on the sewing machine.
Brother PE900 VS Brother SE1900 Comparison Table
Head to head comparison of the Brother PE900 VS SE1900. Differences are BOLD
Feature
Brother PE900
Brother SE1900
Machine Type
Dedicated Embroidery only machine
Embroidery and Sewing machine
Dimensions
9.49″ x 17.48″ x 11.81″
13.43″ x 23.19″ x 11.54″
Sewing Speed
650 stitches per minute
850 stitches per minute
Built-in Stitches
0
240
Built-in Embroidery Designs
193
138
Built-in Embroidery Fonts
13
11
Wifi design transfer
Yes
No
Max Embroidery Hoop Size
5″ x 7″
5″ x 7″
Stitch Selection Method
Color LCD Touchscreen
Color LCD Touchscreen
Adjustable Stitch Length
no
yes
Adjustable Stitch Width
no
yes
Drop-in Bobbin
yes
yes
Free Arm Sewing
no
yes
Needle Positions
n/a
3
Onboard Accessory Storage
yes
yes
Included Feet
embroidery foot
buttonhole foot,
zipper foot,
button sewing foot,
overcasting foot,
blind stitch foot,
embroidery foot
zigzag foot,
monogramming foot
Has Light
yes – LED
yes – LED
Reverse Type
n/a
button
Sewing Machine Pedal
yes
yes
Automatic Needle Threader
yes
yes
Can do Twin Needle Sewing
n/a
yes
Warranty
1 / 5 / 25 year limited warranty
1 / 5 / 25 year limited warranty
Brother PE900 vs SE1900 – Which One Should I Buy?
Now that you know the differences and similarities between the Brother PE900 and Brother SE1900 it's easier to determine which to buy. Overall, both machines are amazing with the Brother PE900 dedicated to machine embroidery and the Brother SE1900 being able to do both machine embroidery and regular sewing.
Interested in reading more about the Brother SE1900? Check out our full review here.
Brother PE900 Embroidery Machine Review FAQ
Does the Brother PE900 have Wifi?
Yes! The Brother PE900 has wifi that you can use to transfer embroidery designs. Brother has free downloadable software, the Design Database Transfer, that you use on your computer to automatically transfer embroidery designs via wifi.
Where can I get new designs for the Brother PE900?
The Brother PE900 comes with software to design your own embroidery patterns, called the Artspira app. With this app, you can use your mobile device to design new embroidery patterns. You can use this app to transfer your designs wirelessly to your sewing machine once it's connected to your wireless lan. In addition, the Brother PE900 is compatible with the designs on iBroidery – over 5,000 designs!
Can you sew with the Brother PE900?
No, the Brother PE900 cannot sew. The Brother PE line of sewing machines are dedicated, embroidery-only machine. For a sewing machine that can both sew and do machine embroidery, check out the Brother SE line of machines.
Can the Brother PE900 cut jump stitches?
Yes! The Brother Pe900 can cut jump stitches automatically. Jump stitches are the sections of no sewing between embroidered areas. Normally, this would have a "jump stitch" between the two areas where the machine jumps from one to the other. The Brother PE900 can automatically cut these threads for you, saving you the time and hassle of cutting them manually.
What kind of thread and needles can I use with the Brother PE900?
The Brother PE900 embroidery machine is compatible with standard embroidery threads and needles. Generally, it is recommended to use a size 75/11 embroidery needle with 40-weight thread for best results. You may also use other sizes of needles and threads depending on your project and the material you are sewing. In general, the heavier the material the thicker the thread and needle you will want to use.
How easy is it to use the Brother PE900?
The Brother PE900 Embroidery Machine is very easy to use. It has a large LCD touch screen display, which makes it easy to select the embroidery design you want to create. It also has a built-in help system, so you can get help right away if you have any questions. The machine also comes with a comprehensive user guide, so you can quickly get up and running with the machine. With its simple design, intuitive controls and helpful user guide, you should have no trouble getting started with the Brother PE900 Embroidery Machine.
What accessories come with the Brother PE900?
The Brother PE900 Embroidery Machine comes with the following accessories:
Embroidery foot
Needle set
4 Bobbins
Cleaning brush
Large and small screwdriver
Disc-shaped screwdriver
Scissors
Seam Ripper
Bobbin center pin
3 different spool caps
Spool net
Bobbin case
7″ x 5″ embroidery hoop
Embroidery bobbin thread
Accessory bag
Soft dust cover
Operation manual
How big is the embroidery area of the Brother PE900?
The embroidery area of the Brother PE900 is 5″ x 7″. This is pretty large for home use embroidery machines, and allows you to sew larger projects easier.
Does the Brother PE900 have an LCD screen?
Yes, the Brother PE900 Embroidery Machine does have an LCD screen. The LCD display is a 3.7-inch full color display with touch screen capabilities. It allows users to easily view the design and make adjustments like positioning or rotating elements before you sew.
In Summary
Thank you for taking the time to read this review of the Brother PE900 Embroidery Machine. We hope this review has been helpful in your decision to purchase this machine or to explore other options. We believe that this machine is the perfect combination of features and functions to give you the best embroidery experience. If you have any questions, please do not hesitate to reach out to us. We are here to help you make the right decision.
Related Posts