Here is another review all about sewing machines and how this one will fit into your sewing lifestyle. In this Brother GX37 sewing machine review, I am going to discuss what features it has, what makes it a great machine and I will answer many common questions so you can figure out if this machine is right for you. I first want to state that the Brother GX37 is a sewing machine that is good for all sewers at any level. This machine is so great. I am excited to be able to share it with you and show you how it will fit into your sewing world.
The Brother sewing machines are known to be dependable and are wonderful machines. Perhaps you are looking to get into sewing or you need a new machine for all your simple sewing creations and projects. I am going to review an awesome standard sewing machine. The automatic sewing machine will give you the versatility to make clothing, home décor and many other fun projects. The brother machine that is being reviewed is the lightweight Brother GX37.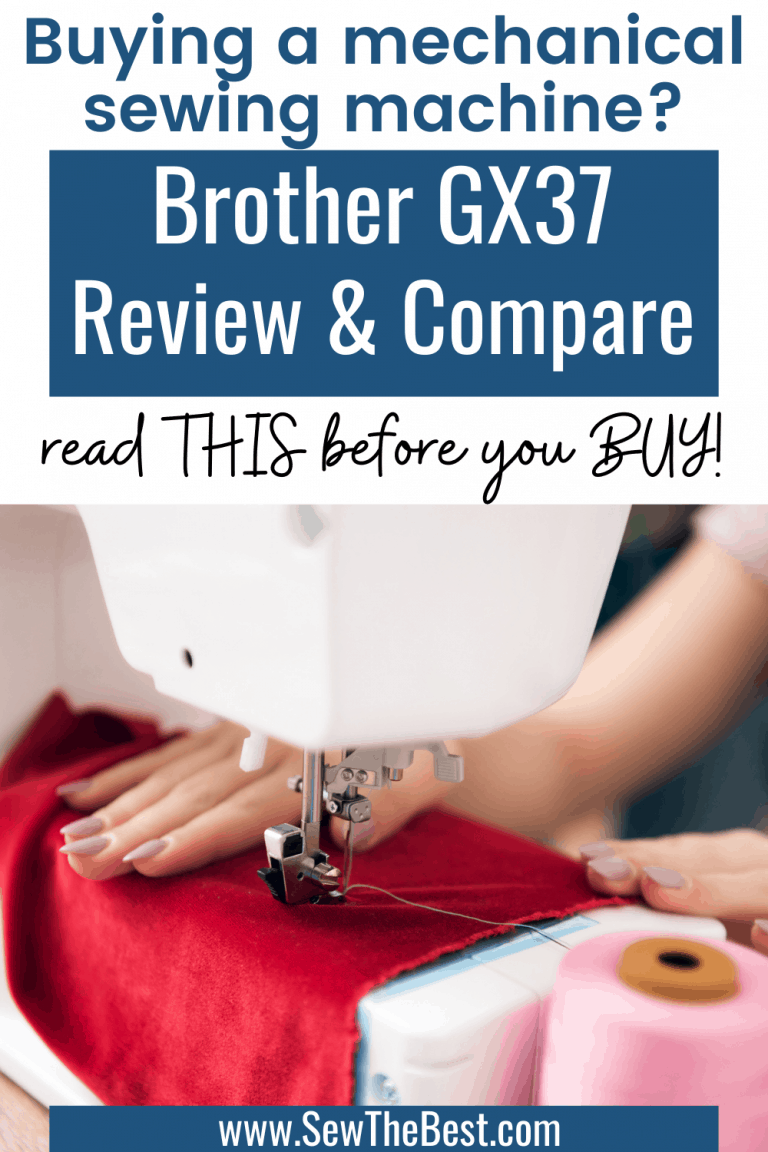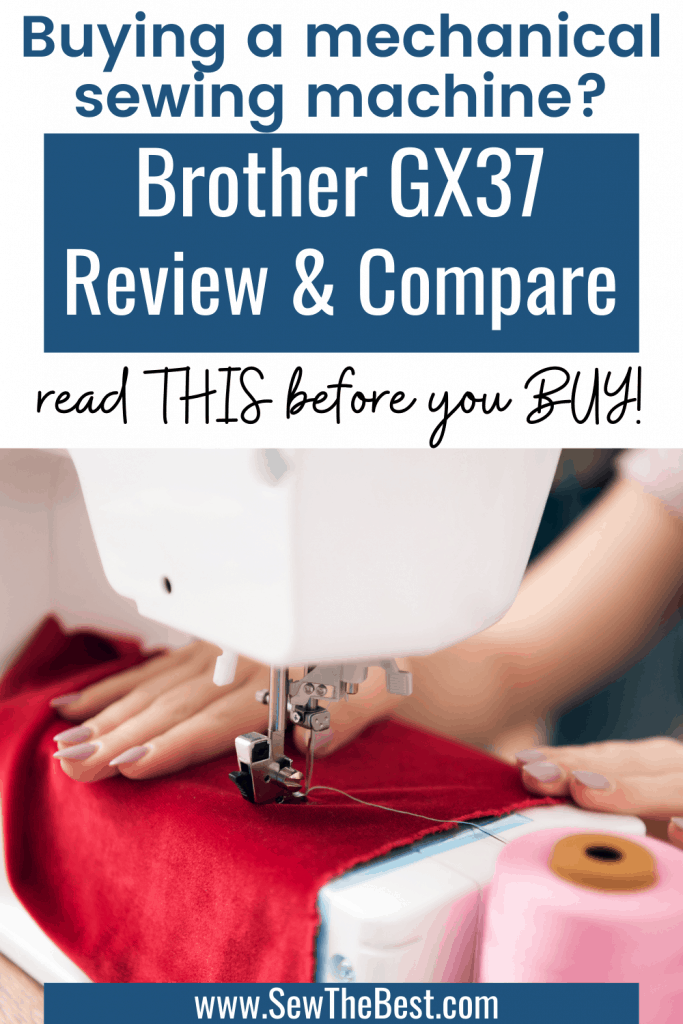 If you're in a hurry (or just curious!) –
✅ Check deals on the Brother GX37 Sewing Machine
About the Brother Sewing Machine, GX37, 37 Built-in Stitches, 6 Included Sewing Feet
| Pros | Cons |
| --- | --- |
| Easy to use stitch selector dial | No adjustable speed slider |
| Drop in bobbin | Settings can be challenging to manually configure |
| Automatic needle threader | |
| Mechanical sewing machine | |
| 37 built in stitches | |
| | |
Brother GX37 Sewing Machine Details
The GX37 makes every day sewing simple and lots of fun. It has many features and makes it perfect for beginners and advanced sewers as I mentioned before. It is a standard automatic sewing machine with a foot pedal to control how fast you sew.
The Brother GX37 is a lightweight sewing machine. The machine only weighs 15 pounds. This makes it portable and easy to store. This machine would be great to take to a sewing class or a sewing guild meeting.
This machine has 37 unique built-in utility and decorative stitches that are accessible with an easy turn dial. The turn dial makes it convenient to switch your stitches to fit all your needs quickly and effortlessly. It also has a reverse direction sewing lever. With the easy to use lever, you can sew in reverse to lock your stitches in place.
In the GX37's 37 stitches they include a variety if needed stitches and ones that will make your project unique. These stitches include a zigzag stich that makes sewing with stretch fabrics easy. It also has an invisible hem stitch. It of course includes the standard straight stitch which is used on many projects. Then to make your project unique and fit your style there are many decorative stitches. One of the best stitch features is the buttonhole hole stitch. This one step buttonhole stitch makes perfect buttonholes for any size button you have. This will be paired with the correct presser foot. With that mention, let us talk about the different presser feet.
The Brother GX37 features a free arm. Is easy to access and will allow you to sew items like sleeves or cuffs. The GX37 has an automatic needle feature which is a constant feature found in all of the Brother sewing machines. It comes with a dust cover and includes an instructional DVD.
Two other features to mention are the easy bobbin winding capability and the drop in bobbin feature. These both make sewing a quicker process. You can easily make bobbins with any color thread to give your project the perfect thread color. The bobbin is also jam resistant. This means no more mess ups and time wasted trying to detangle the bobbin from your machine.
The Brother GX37 has an automatic needle threader. This has become a standard feature across all Brother machines. It is so simple, and you do not have to worry about trying to get the needle threaded. The Brother also has a great LED light that allows you to see your sewing workstation.
Now that we have gone over all the great features in depth here is a quick guide list that will help you reference quickly what key features this machine has and if it will be a good fit for you.
Product Features:
37 distinctive built-in stitches.
Easy to use dial for selecting your stitch.
Automatic needle threader. It perfectly pushes the thread through the needle.
Drop-in top bobbin. This jam resistant drop-in is easy and useful to use.
6 presser feet. These sewing feet include zigzag foot, buttonhole foot, zipper foot, button sewing foot, blind stitch foot, and narrow hemmer foot.
Can do free arm sewing for sleeves, hemming, and more.
Brother at your side support when you need it. You can get free technical support either online, live chat or over the phone for the entire life of you machine.
25 year limited warranty.
Check Price
Brother GX37 Review
So now that we've gone over the details and specifications, let's take a look at our Brother GX37 review.
To start, we love how easy to use this sewing machine is. Experienced sewers can get this machine up and running in no time. With the easy to use drop in bobbin, automatic needle threading, this machine is so easy to setup. This machine is super highly rated and reviewed most anywhere it's sold. People overwhelmingly love this machine for how simple and easy to use it is.
The one thing about this machine that was a bit challenging was getting the settings just right. This is a mechanical sewing machine, and that means that you need to adjust the sewing machine's settings yourself. Stitch width, stitch length, and tension are all managed by dials on the machine. Getting these dials set correctly for your project and material can be a bit of a challenge. Make sure that you take a test piece of fabric and sew a few stitches on it before starting your project. This way you can get the settings just right before you start to actually sew.
The Brother GX37 is fantastic if you are new to sewing. The simple design makes it easy to learn and easy to follow any instructions. If you are an advanced sewer this is also a great machine for you. Do not let the simplicity make you feel like it would not be worth it. With the many different stitches, it makes it effortless for you to create more complex sewing projects or to get a little more fancy in your ideas.
Video of the Brother GX37 Sewing Machine
Commonly asked questions about the Brother GX37 Sewing Machine
In this section there are some common questions about this Brother GX37. This will help you to find your question and a quick answer to make sure this machine is the right fit for you. Some of these topics have been covered above but this quick guide will help you reference this machine.
Can the Brother GX37 sew denim?
Yes! You can choose to sew denim. The only thing to keep in mind is you should have the correct needle. Just order some thicker needles, also known as denim needles. This will prevent the needle from breaking as you sew thicker and heavier fabrics. Make sure that you use a sharp needle when sewing denim or heavier materials. Also, if the machine starts to struggle do not force it through a thick or heavy material. Forcing the machine can void your warranty and cause damages.
Is the Brother GX37 a good sewing machine for beginners?
This is a great machine for beginners. It is easy to use and still has many options to allow advancement in you sewing journey.
Is Brother a good sewing machine brand?
Brother is a great brand and has been around for many years. The brand of Brother started creating sewing machines in 1908. They are reliable and have great tech support that lasts the life of you machine.
Does the Brother GX37 come with a warranty?
Yes, it has a warranty. The Brother standard warranty is 25 years. This does not include common issues like tune ups and belt replacement, so be sure to check out the warranty so you know what is and is not covered.
In addition to the warranty, the Brother GX37 sewing machine comes with Brother's at your side support. This is tech support for Brother sewing machines. They can help walk you through troubleshooting most common problems with Brother machines, often avoiding a trip to the repair shop.
Where is the Brother GX37 manual?
The Brother GX37 sewing machine comes with a paper manual. You may also visit the Brother website here and download the manual for free if you ever need.
What is the sewing speed of the Brother GX37?
This machine is smooth and fast. It sews up to 850 stitches per minute. This machine does not have an automatic speed adjusting slider. The sewing machine's speed is solely controlled by the sewing pedal.
Does the Brother GX37 have a start / stop sewing button?
The Brother GX37 is a mechanical sewing machine and does not have an automatic start / stop sewing button. This button is commonly found on computerized sewing machines. The Brother GX37 sewing machine is solely controlled by the foot pedal. You press down to sew, much like driving a car.
Does the Brother GX37 have an automatic thread cutter?
No, the Brother GX37 does not come with an automatic thread cutter. Automatic thread cutters are found on computerized sewing machines, and the Brother GX37 is a manual sewing machine.
Can you use the Brother GX37 with a twin needle?
Yes! You can use the Brother GX37 to do twin needle sewing. Twin needle sewing is great for making flat felled or mock flat felled seams. Flat felled seams are the type of seams you commonly see in denim, but are also super strong seams that can be used on canvas or other materials. Having a twin needle makes sewing this stitch take half as long as a single needle.
Can you use metal bobbins with the Brother GX37?
No, you do not want to use metal bobbins on the Brother GX37. Metal bobbins would damage this sewing machine and could lead to costly repairs. This would also void your warranty, leaving you on the hook for paying for the repairs.
What bobbins does Brother GX37 use?
This Brother GX37 uses SA156 bobbins. This machine comes with 4 bobbins, or you can purchase more here. These bobbins are your standard size for most Brother machines.
What presser feet come with the Brother GX37?
This Brother comes with 6 presser feet. They are the zigzag foot, buttonhole foot, zipper foot, button sewing foot, blind stitch foot, and narrow hemmer foot. These feet can be used with different stitches to give you the perfect sewed item. Let us go over each of the presser feet and their uses.
Zigzag presser foot that obviously pairs with the zigzag stitch. This presser foot is also the one you will be using for standard sewing projects as well. You can pair it with the straight stitch too.
Buttonhole presser foot. This presser foot is great because you can place your button right in the foot to get the right size each time. Then in one simple step you can sew flawless buttonholes. As mentioned above, when paired with the buttonhole stitch you will be able to create those flawless buttonholes.
A zipper foot is included as well. This is going to make adding a zipper easy. All you must do is grab a zipper and this special presser foot. Then you can add it to a garment or any sewing creation.
The next presser foot is the blind stitch foot. This can be paired with the blind stitch and give you a hem for those more professional garments. This will give a hidden or invisible hem.
Next, we have the button sewing foot. This foot does exactly what you would think. You can attach a button to it and the foot will help you sew all your buttons on. No longer do you need to sew buttons on by hand, just attach this foot and quickly get those buttons on.
Lastly there is the narrow hemmer foot. This one will help you sew a small hem for any project that needs it. Just as the name implies you will be able to give your sewing creation a narrow hem.
Can you quilt with the Brother GX37?
You can make quilts with the Brother GX37. This machine can not drop it's feed dogs, which is needed to do free motion quilting. Instead it comes with a darning plate for covering the feed dogs. This allows you to do free motion quilting on this machine. If you were quilting a geometric pattern with straight lines, you could do that on this machine too. If you are quilting large and bulky items, you may have issues passing it through this machine's throat. So, while it is possible to quilt on the Brother GX37, it is recommended that you get a machine with quilting capabilities simply for the larger throat that would make it easier to pass your quilt through the machine.
Brother GX37 Comparison
The Brother MX2701 is the direct competitor to the Brother GX37. Let's take a quick peek comparing the Brother GX37 vs XM2701.
| | | |
| --- | --- | --- |
| Built in stitches | 37 | 27 |
| Mechanical sewing machine | yes | yes |
| Stitch selection | dial | dial |
| Drop in bobbin | yes | yes |
| Automatic needle threader | yes | yes |
| Included sewing feet | 6 | 6 |
| Can do free arm sewing? | yes | yes |
| Stitches per minute | 850 | 800 |
| Lighting type | LED | LED |
| Warranty | 25 year limited | 25 year limited |
* Differences bolded
Check out our full Brother XM2701 review here for more information about this mechanical sewing machine.
In summary
So, in conclusion what is this machine good for and who is it for? Is this really worth you getting? In short absolutely it is!
This machine will help you create all you basic sewing projects and give you room for your creative side. If you wish to get into making clothes or home décor, like place mats and curtains, then is machine is perfect for you.
The Brother GX37 is the perfect automatic sewing machine that will fit right into your craft room. The versatility of this machine is the best for all sewing ages and all projects. As you look for the perfect machine you can stop right here and buy this one! Do not wait any longer, get this Brother GX37 and start your sewing projects right now! Your sewing projects are waiting for you with the joy of creativity when you buy this Brother Sewing Machine! Happy sewing!
Related Posts