Looking for a serger with coverstitch? What is coverstitch, and how is it different from overlock stitch? What does a serger even do? This post answers all of these questions. We'll also be reviewing sergers with coverstitch to get you the best serger with coverstitch. So, if you are wanting to buy a serger with coverstitch, check out this post.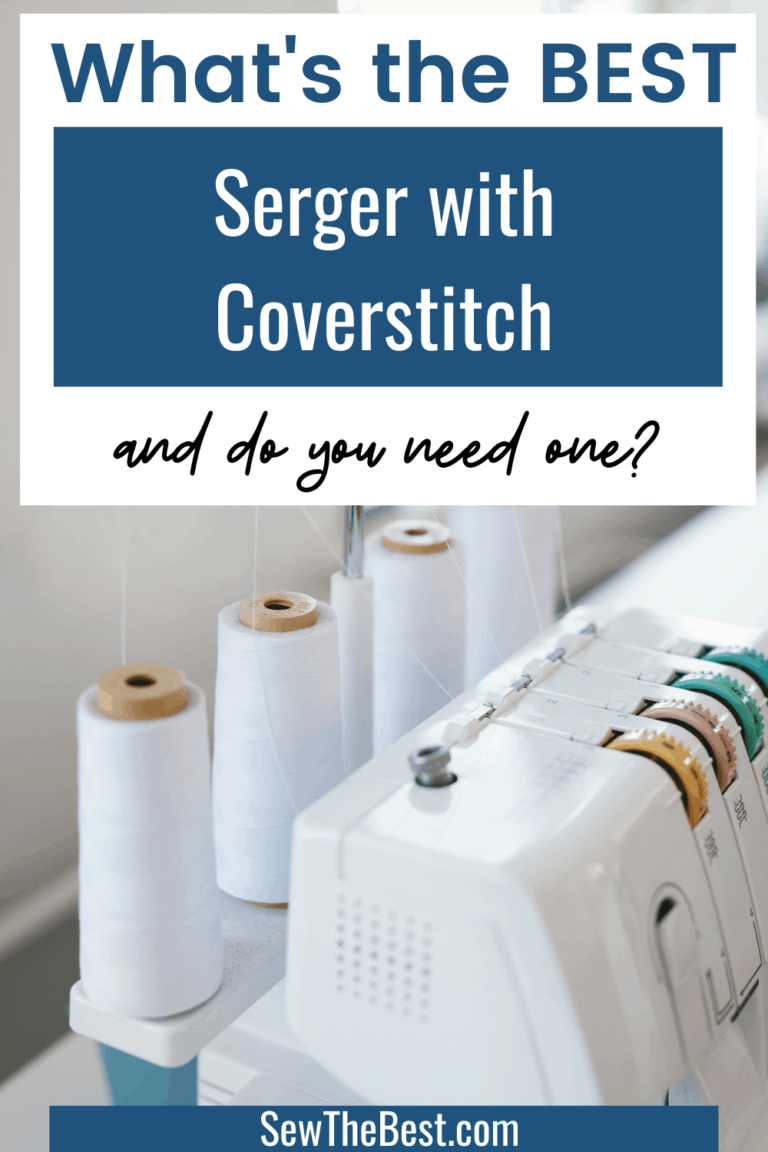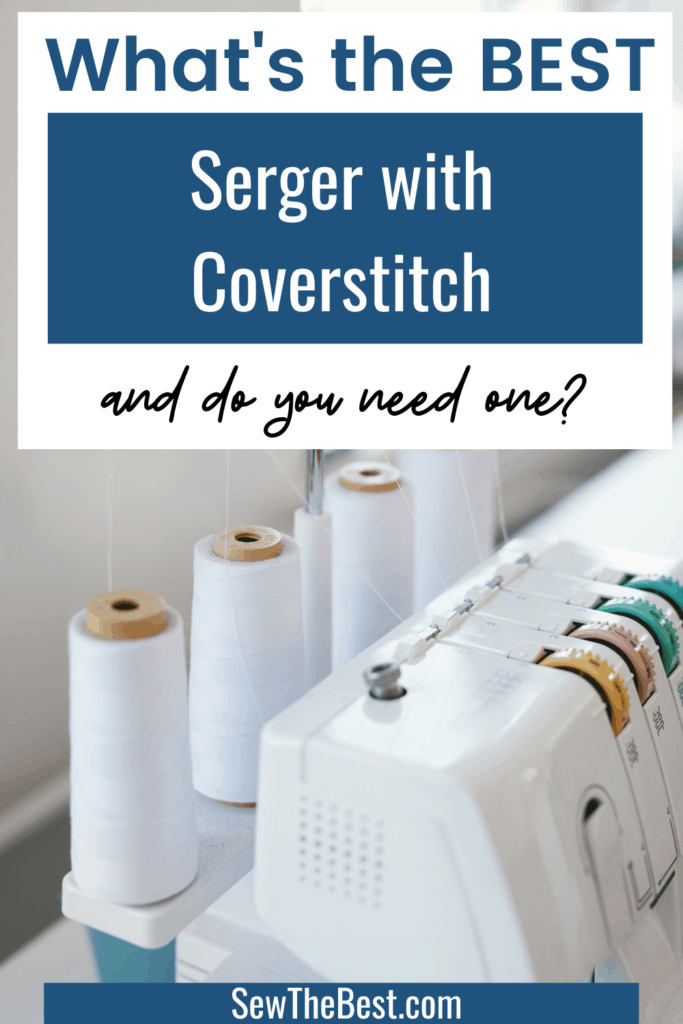 If you're in a hurry (or just curious!) –
✅ Check deals on sergers with coverstitch
What does a serger do?
Sergers are specialized machines that are dedicated to finishing the edges of fabric. They do this by wrapping multiple threads around the edges of the fabric to protect and secure them. Sergers use anywhere from three to five or more spools, or cones of thread at a time. Sergers sew extremely fast, much faster than sewing machines. However sergers are not great at sewing pieces of fabric together and can't be used for things like attaching zippers, quilting, or decorative stitching.
Do I need a serger?
If you have a sewing machine you probably do not need a serger. Zig zag stitch on a sewing machine can be used to finish and protect the edges of fabric. However if you are working with stretchy fabric or if you are looking for a more professional finish to the edges of your fabric you want to get a serger. If you sew large amounts of projects and find yourself spending a lot of time finishing the edges of your fabric, you would want to get a serger. Sergers sew on average at least twice as fast as sewing machines, so you would get the edges finished that much faster.
What's the difference between overlock and coverstitch?
Overlock and coverstitch are two different stitch types that a serger can do. Most sergers are overlock sergers. This means that they are specialized for sewing around the outside edges of fabric. Often, overlock sergers even trim the very edge of the fabric as they sew to make sure that the fabric is encased in thread. Overlock sergers are some of the cheapest serger types.
Coverstitch sergers work differently from overlock serger. And example of coverstitch sergers sewing is the bottom and sleeve edges for t-shirts. Coverstitch sergers are normally used where the edge of the fabric is folded over. They leave two tracks of stitches on the front side of the fabric, and on the back they encase the edge of the fabric in thread. Coverstitch sergers do not cut the fabric as they work, that would defeat the point!
If you need an overlock instead of a coverstitch serger, check out the best Brother sergers for sale.
Do I need a serger that can coverstitch?
Most people do not need a serger that can coverstitch, much less a serger that can coverstitch and overlock. Most home sewers would want a serger that can do overlock stitch only. Machines dedicated to overlocking are much cheaper than machines that can overlock and coverstitch, or machines that can just coverstitch. Also, going from overlock to coverstitch mode can be tricky if you do not do it often.
If you need a machine that can overlock, and occasionally want to use coverstitch, then you would want to look at getting a machine that can do overlock and coverstitch. Buying a dedicated coverstitch machine when you just want to use the feature occasionally may not be worth it. Another reason you might want a machine that can do overlock and coverstitch is if you are limited on space. Having one machine that can do both tasks instead of two can save you some room.
Best Serger with Coverstitch
SINGER Professional 14T968DC Overlock Serger with Coverstitch
The Singer Professional 14T968DC is one of the best serger coverstitch combo machines. This 5 thread serger machine is capable of 14 different stitches, including coverstitch, chain stitch, overlock, cover hems, rolled hems, and flatlocking. It has a diagram on the machine for threading the different stitch types, as well as color coded threading paths. The Singer Professional serger has fully automatic self-adjusting tension so you don't have to worry about it. It is capable of sewing at 1300 stitches per minute, helping you to get projects done even faster. This Singer serger machine also has adjustable cutting width and stitch length so you can get your project just right.
Product Features:
14 built in stitch options for all types of projects with professional results every time.
SINGER 14T968DC Serger has a self-adjusting tension system.
Maximum sewing speed of 1,300 stitches-per-minute, so projects can be sewn quickly.
4 built in rolled hems, with easy conversion to rolled hem mode.
Juki MO-735 5-Thread Serger & Cover Hem
The Juki MO-735 is an overlock serger with coverstitch capability. This is a 5 thread serger with coverstitch. It has 2 needle coverstitch, chain stitch, overlock, and more. This machine can cut, sew, and finish edges with overlock stitch like a champ. It can do overlock and coverstitch, as well as chainstitch and safety stitch. It has color coded threading to make threading this machine easier. The Juki MO-735 has adjustable stitch length and differential feed. The lower knife is adjustable and upper knife is fully retractable. It can do automatic rolled hemming too. This machine also comes with automatic needle threading to make life easier. The Juki MO-735 can sew 1500 stitches per minute. With that many stitches per minute, most machines would be walking away from you. Not the Juki! This machine comes with suction cups on the bottom of it so that you know it will stay put as you are sewing along. The most important thing about this machine, and any serger machine, is to read the instruction manual that comes with it. You will want to save this instruction manual for reference in the future as you swap between coverstitch and overlock modes.
Product Features:
2 Needle Overlock stitch
2 & 3 Needle Bottom Coverstitch
Chainstitch Mode
5-Thread Safety Stitch
Chain Looper Threading – in a Snap
Multi-Function Presser Foot
In summary
These overlock serger machines with coverstitch are great if you are looking for a diverse machine that can do more than one stitch type. Both of these machines are well reviewed by multiple different people. If you are looking for a serge machine with coverstitch capabilities, then you want one of these machines.
Related Posts