Looking for the best fabric rotary cutter and mat kit? Wondering what a rotary cutter even is and how you would use it with fabric? In this article, we go over what a rotary cutter is. You'll learn general how to use a rotary cutter advice and what you need to use with a rotary cutter. You'll also learn about the best fabric rolling cutters. So keep reading to learn all about rotary cutters and how they can make your sewing projects faster and easier.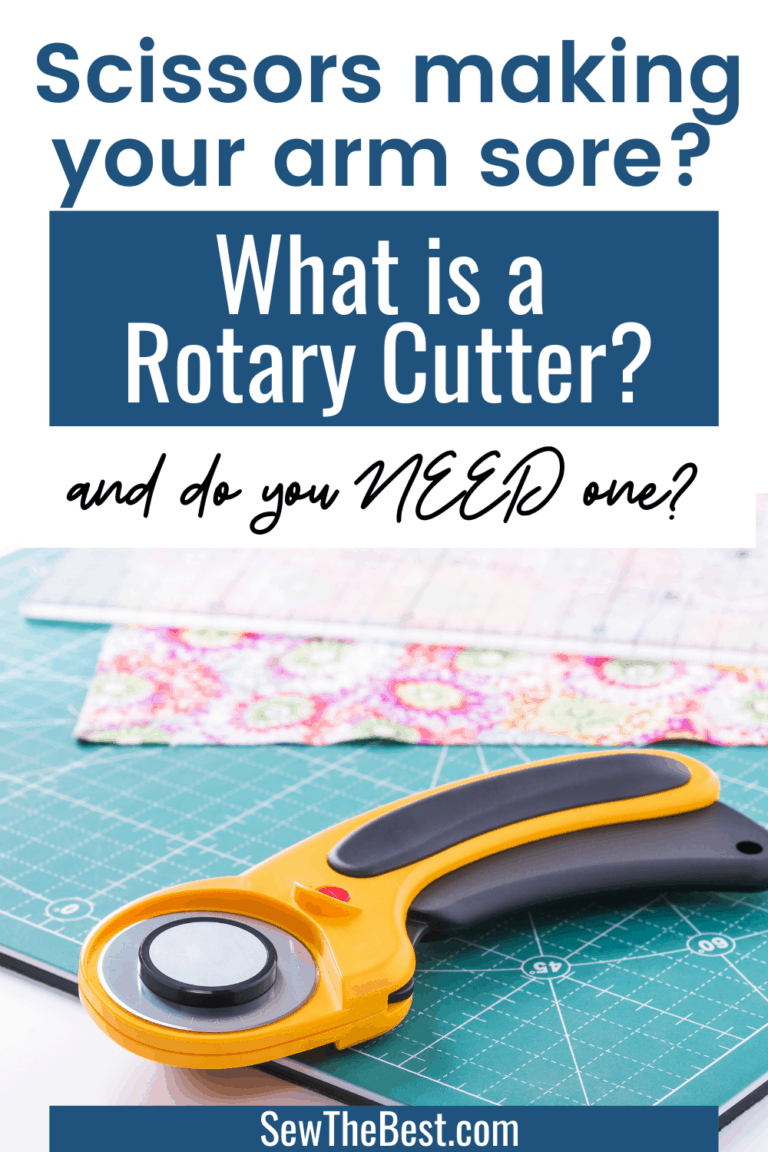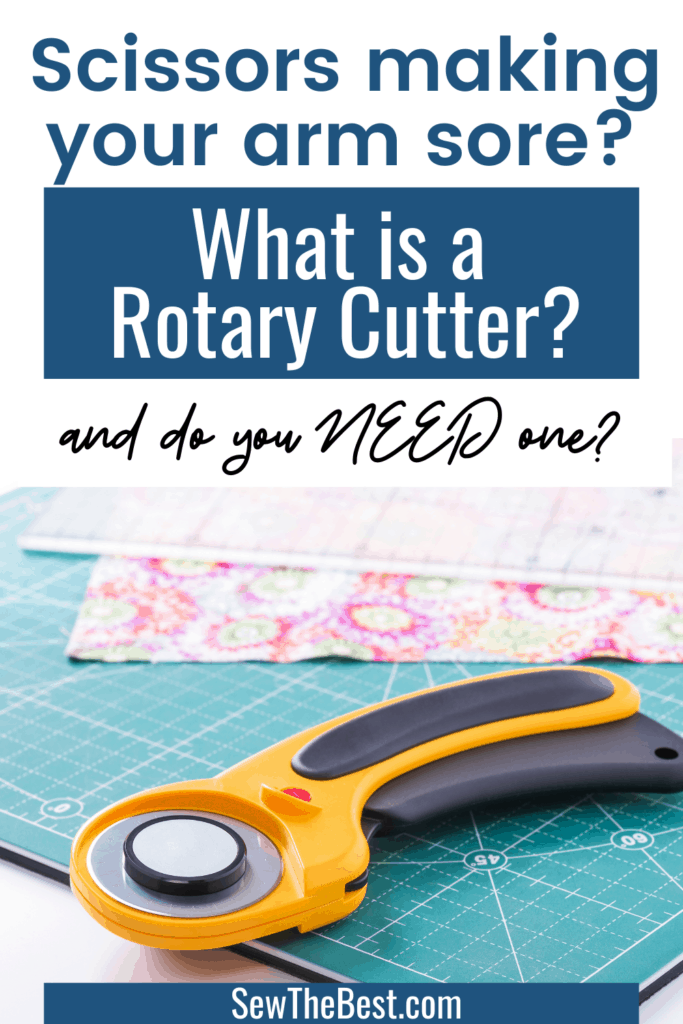 If you're in a hurry (or just curious!) –
✅ Check deals on rotary cutters and mats
What is a Rotary Cutter?
A rotary cutter is basically a round razor blade with a handle. Rotary cutters are great to use. Rolling fabric cutters like this can cut through single or multiple layers of fabric with ease. Light cottons are super easy to cut through. Thicker materials like denim or leather might require a couple of passes of the blade, but are still super easy to cut through compared to using scissors. Rotary cutters are designed to be rolled over fabric and to cut as it goes. This is much easier on your hand and forearms than cutting with a pair of scissors. You'll appreciate them even more when you are cutting multiple items that are the same, or even just a lot of pieces that are different.
Do I Need a Rotary Cutter?
Do you need a rotary cutter to create beautiful sewn projects? The answer is no. You do not need a rotary cutter to create beautiful sewn items. However, using a rotary cutter is SUPER nice. I LOVE my rotary cutter. You can cut multiple layers of thin cotton pieces that are all the same, or just cut out a single pieces of fabric super easily. Rotary cutters are very nice to use. When cutting fabric with scissors, after a while your arm starts to get sore, and your hand. You start to dread cutting a little bit. Rotary cutters completely do away with this. Instead of having to work a pair of scissors you simply run the rolling cutter over your fabric. Cuts are that easy to make. Thicker fabric may require one or more passes, but that is still so much better than having to force a pair of scissors through some heavy leather. So, if you find yourself dreading cutting because of how much it makes your arm hurt, or if you never want to get to this point – get a rotary cutter!
How do you use a Rotary Cutter?
Rotary cutters are super easy to use. That is part of what makes them so great. To use your rotary cutter to cut fabric, you would first lay out your self healing cutting mat. You always want to cut on this mat, not letting the blade travel over the edge. If your blade does go over the edge, it will cut whatever is beyond the mat – your table, the floor, whatever it happens to be. If you have your mat on a hard surface and go over the edge, you will dull your blade. So don't go over the edge of your self healing cutting mat.
Once you have your mat out, lay out your fabric on the cutting mat. I like to line the grain of my fabric up with the markings on the cutting board. This way I know when I am cutting with or across the grain. If your fabric is not already marked for cutting, this is a great time to chalk out where you want to cut the fabric. You can use the clear acrylic ruler to help with any straight lines you need to draw and to help with measuring your fabric.
When your fabric is laid out and marked, you are ready to start cutting. Remove any safety coverings or push the safety button on your rotary cutter. Grip the rolling fabric cutter's handle firmly (not not too tight!) in your hand. If your cutter is angled, you want the blade pointing down. You will apply light to moderate pressure to the blade to cut through your fabric as you roll the blade across the fabric. You will probably be able to feel the fabric being cut by the blade as you go. If you have large straight pieces of fabric to cut, lay the ruler out along the edge of the cut and run your rotary fabric cutter along the edge of the ruler. Gently try to move the cut fabric pieces apart to test that the cut went completely through your fabric. If the pieces do not separate, roll the rotary cutting tool across your fabric again until your fabric is cut free.
What is a Self Healing Cutting Mat?
A self healing cutting mat is basically a PVC mat that is specially designed for use with a rotary blade cutter. These mats are multiple layers of PVC, often 5 layers. Self healing cutting mats have an outer protective layer of tiny PVC pieces that are all pressed together into a solid surface. These pieces separate a little bit when you cut on the mat, then re-join after the blade has passed. This keeps cuts from actually biting into the mat and damaging it. Below this protective outer layer, self healing cutting mats have a softer PVC layer. This softer layer helps to absorb the pressure you put onto the mat when you cut. In the very middle of self healing cutting mats is a harder PVC later. This layer gives cutting mats their firmness and resistance to being flexed.
Best Fabric Rotary Cutter and Mat
Fiskars Crafts Rotary Sewing Cutting Set (3 Piece), Grey
Fiskars is known for their quality cutting tool, and this rotary cutter set definitely lives up to the name. It has thousands of five star reviews – something almost unheard of. This straight handle rotary cutter is a basic stick rotary cutter – no fancy pivots or angles to make life confusing here. It has a 45mm blade that is super sharp and durable. Rotary cutters are great for cutting through single or multiple layers of fabric simultaneously. If you have a bunch of similar pieces to cut out, like in quilting, a rotary cutter will make quick work of the job. This rotary cutter kit comes with a 6.5″ x 24″ clear acrylic ruler. These rules are great for measuring out your fabric as you cut. They also help to ensure that you have nice straight lines when you cut. This rotary cutter also comes with a double sided 18″ x 24″ self healing cutting mat.
Product Features:
Classic Stick Rotary Cutter with a rolling 45 mm blade
Perfect for cutting multiple layers
Extra-large 18 inch x 24 inch Cutting Mat with measuring grid
6.5 inch x 24 inch clear Acrylic Ruler
Rotary Cutter Set Pink – Quilting Kit incl. 45mm Fabric Cutter, 5 Replacement Blades, A3 Cutting Mat, Acrylic Ruler and Craft Clips
This rotary cutter set also has thousands of five star reviews. This is a complete rolling cutter set, with tons of useful items to help you out if you are a beginner sewer looking for tools. This is a more ergonomic rotary cutter than the Fiskars cutter above. This kit comes with a rotary cutter with 45mm blades, just like the Fiskars set. It also includes a 6.5″ x 12″ clear acrylic ruler and 12″ x 18″ self healing cutting board with printed measuring grid. This makes the ruler and cutting board just a little bit smaller than the Fiskars set above. This roller cutter is a bit different, it has a trigger built into the handle for extending or retracting the blade. It also has a safety button that prevents the trigger from activating the blade. These features help to keep you safe. When you are not gripping the roller cutter to cut your fabric, the blade retracts back into the housing. If you have the safety on and the blade in a drawer, accidentally hitting the trigger will not extend the blade. This way you do not accidentally cut yourself on what is basically a round razor blade. This kit also comes with 5 extra rotary cutter blades and is compatible with Olfa rotary cutter blades. Rotary cutter blades are very durable and long lasting so long as you use them on the cutting board – but they do wear out with time. Having extra blades is nice. This kit also comes with 20 sewing clips. I have just recently started using sewing clips instead of pins for my work. They are definitely super helpful to have on hand.
Product Features:
High quality SKS-7 steel blades.
Suitable for cutting paper, denim, vinyl and other materials.
Can cut six layers of fabric or paper to the same size and shape at once.
Self Healing Cutting Mat included. Double sided design, made from durable 5-Ply material for accurate cutting.
Cutting Mat size is 18″ x 12″ (A2), Grid size of print is 16″ x 10″, thickness is 3 mm.
Ergonomic handle with adjustable screw system ensures high blade stability and gives you full control over your cutting blades for smooth operations.
Built-in safety lock prevents the handle from being pressed when the blade is not in use.
Our rotating knife tools comes with 5 extra pieces of 45mm rotating blades.
Rdutuok Purple 45mm Rotary Cutter Set Quilting Kit, 3 Replacement Blades, A3 Cutting Mat(18X12″), Acrylic Ruler,Sewing Pins,Cushion,Craft Knife Set and Craft Clips
This rotary cutter tool kit is another great kit for beginning sewers or advanced sewers. It does not have as many reviews as the other two kits, but still has lots of five star reviews. This kit comes with a 45mm rolling cutter. This rolling cutter has the same safety button and trigger to help keep you safe. This kit also comes with a 6.5″ x 12″ acrylic ruler for guiding your fabric cutting. It has a 18″ x 12″ self healing cutting mat included. There are three extra rolling cutter blades included in this kit. This sewing kit includes many other tools in addition to the rotary cutter. It has 20 sewing clips included – 10 regular size and 10 jumbo size. These clips are super useful when you are sewing slippery fabric like satin and do not want to leave needle marks. This kit also includes 40 quilting pins and a pin cushion, for those times when you want to pin something together before sewing it. Another item in this kit is a craft knife that you can use on the cutting mat or on it's own. Rotary cutters are great, but they do not get sharp interior corners very well. The craft knife would be great for those corners.
Product Features:
45mm rotary cutter
3 extra SKS-7 Blades spare rotary blades
18 X 12″ A3 self healing cutting mat in cm with marks for different angles 30°45°and 60°
6.5 X 12″ acrylic quiting ruler in inch
40 quiting head pins and 1 pin cushion
10 Jumbo-Size & 10 Standard-Size Clips
1 durable craft knife with 5 extra sharp replacement blades
The craft rotary cutter is designed with a safety button to lock the blade.
The blades can be placed on both side of the rotary cutter, perfect for both right- and left-handed users.
Comfortable handle reduces strain during longer cutting hours, making crafting and sewing more enjoyable!
In summary
So now you know all about the best fabric rotary cutter and mat kits. You also learned what a rotary cutter is, what self healing cutting mats are, and if you need a rotary cutter and mat (hint: you should totally get one!). If you haven't already, be sure to check out the fabric rotary cutter reviews and prices for these best rotary fabric cutter and mat kits.
Related Posts