Do you love to sew and create your own unique projects? Imagine being able to sew to your heart's content while also saving money along the way. In this blog post, we'll talk about where to get cheap fabric and share valuable tips for finding affordable fabric and notions. Sewing is a wonderful hobby that allows you to express your creativity and create beautiful garments, accessories, and home decor items. However, the cost of fabric and sewing notions can add up quickly, making it challenging for many sewing enthusiasts, especially those on a budget, to pursue their passion fully. That's why it's important to explore ways to find affordable fabric and notions. By saving money on these essential materials, you can enjoy sewing more frequently, take on bigger projects, and even experiment with new techniques without worrying about the financial burden. Are you ready to discover the secrets of sewing on a budget? Let's dive into our top tips for finding affordable fabric and notions that will help you stretch your sewing dollars further!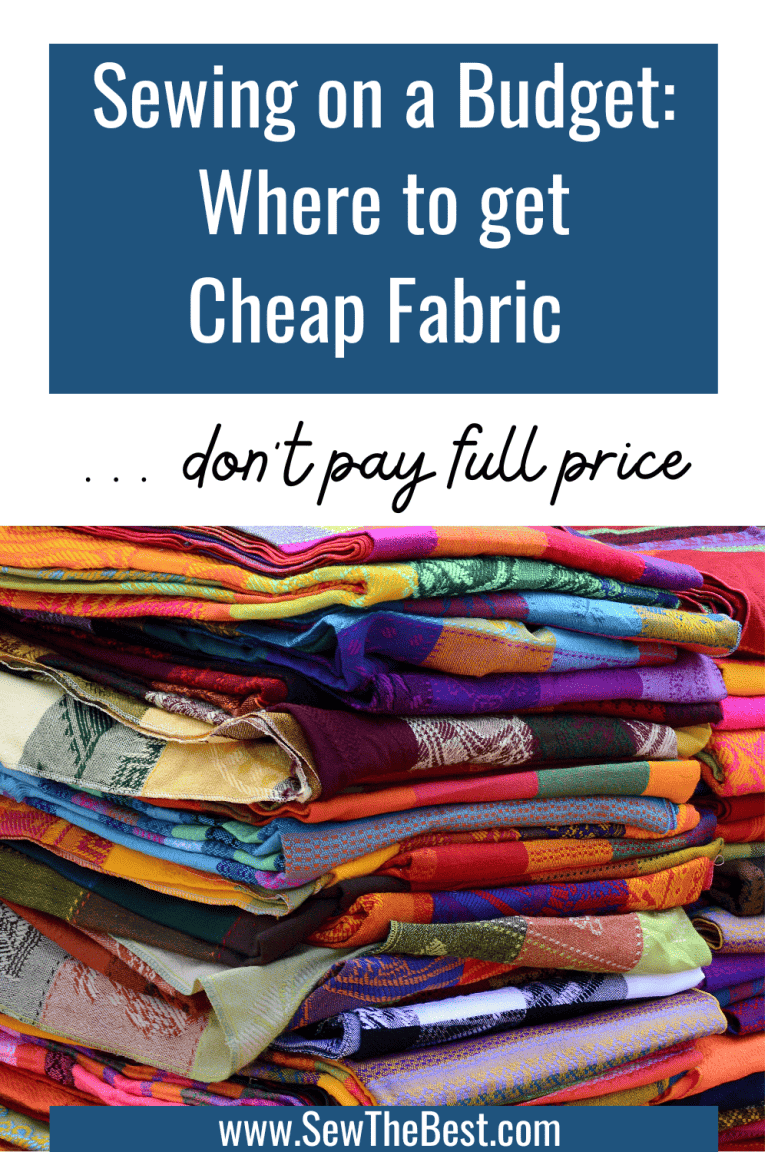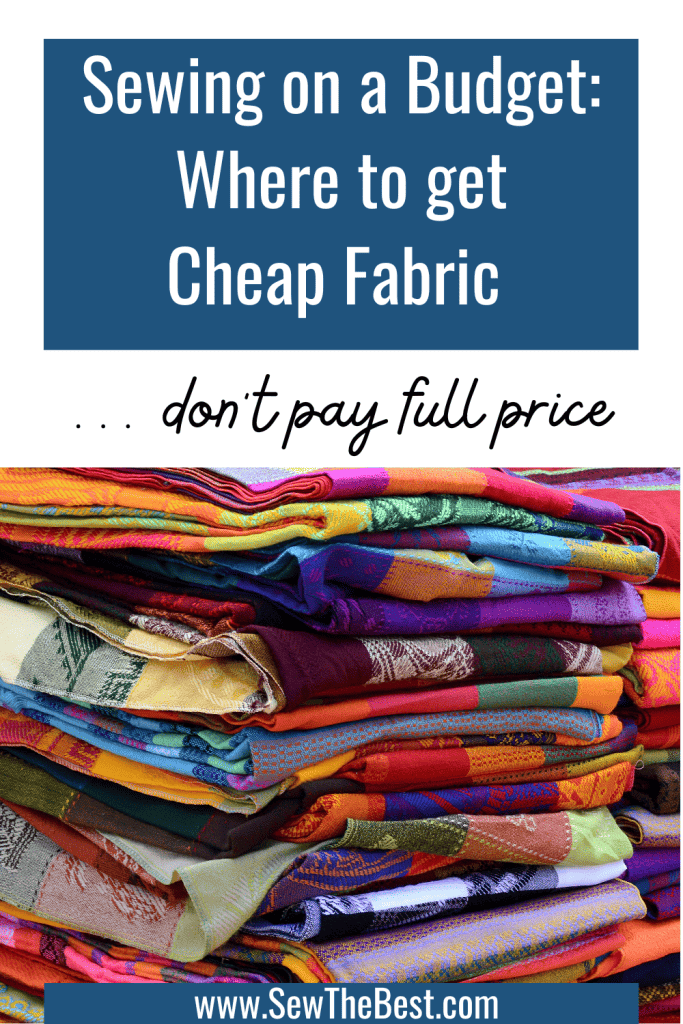 Why is finding low cost fabric and notions important?
Finding low-cost fabric and notions is vital for sewers of all levels, especially those who are on a tight budget. Sewing is not just a creative outlet; it can also be a practical skill that allows you to create clothing and home decor items that reflect your personal style. However, the costs of fabric and sewing notions can quickly add up, limiting the possibilities for many sewing enthusiasts. By finding affordable options, you can stretch your crafting budget further and open up a world of possibilities. Affordable fabric and notions enable you to embark on more ambitious projects, experiment with new techniques, and even turn your sewing hobby into a small business venture. It's not just about saving money; it's about unlocking your creativity and maximizing the enjoyment you get from sewing.
The Best Tip for Finding Cheap Fabric
Our number one tip for buying fabric cheap is – to have a list. If you are walking into a fabric or a craft store without a list, you are making a mistake. Having a list means that you won't forget any items critical for your project. More importantly, it helps you to avoid buying things that you don't need and wasting money on them! So the best tip we can give for buying fabric is to always have a list, and to use it.
How to find affordable fabric at the store
Let's start with one of the largest parts of your sewing spend, finding affordable fabric. If you're anything like me, you can walk into a fabric store and walk out with literally hundreds of dollars of fabric that quickly joins the "to sew" pile. So let's talk about ways to find discounted fabric and save some money.
Research local fabric stores and their prices
When looking for affordable fabric, start by researching local fabric stores in your area. Take note of their regular prices and any ongoing sales, discounts, or clearance sections they may have. Keep an eye out for seasonal promotions or special events where you can find fabric at discounted prices. Additionally, consider joining their loyalty programs if available, as they often offer exclusive discounts or rewards that can further reduce the cost of your fabric purchases.
Fabric stores will also have a clearance section just like any other store. So our next tip is to find this part of your local fabric store! Clearance fabrics can often be from last season, something the store over-bought, or just fabric no one else wanted. However, that doesn't mean this bargain fabric isn't perfect for you! So be sure to find and check out the clearance section of fabric stores when you go.
Another great tip with fabric stores is to be sure to check the remnant bin. Fabric stores have a lot of scraps of fabric sitting around, and the remnant bin is where these will be stored. These are often 1 yard of fabric or less that is selling for a discount. The remnant bin is a great place to look for pieces for smaller projects ( like 1 yard projects ) or for fat quarters for a quilt.
My last tip for fabric stores is to look for discount fabric stores in your area. These are stores that get large amounts of fabric as leftovers from manufacturers, other fabric stores, and more. They will often have a huge selection of discount fabric at wildly discounted rates. But if you go to a discount fabric store, make sure you get enough fabric to complete your project. That same discount fabrics may not be there the next time you visit!
Explore online fabric stores
Online fabric stores can be a treasure trove for finding affordable fabrics. Look for reputable online retailers that offer a wide variety of fabrics at competitive prices. Often, online fabric stores will send you a sample of fabric that you are interested in, so you can make sure the colors and quality are what you want. Keep an eye out for discounted fabrics and bulk deals, where you can purchase larger quantities at a lower cost per yard. Before making a purchase, it's important to read customer reviews to ensure the quality of the fabric and check the store's return policy in case you are not satisfied with your purchase.
Visit thrift stores and garage sales
Don't overlook the hidden gems that thrift stores, online secondhand posts, and garage sales can offer in terms of affordable fabric. Browse through the fabric section of thrift stores and keep an eye out for second-hand fabrics in good condition. Sometimes, you can find high-quality fabrics at a fraction of the original price. Additionally, consider repurposing items like bed sheets or curtains. With a little creativity, you can transform these materials into beautiful sewing projects while saving a significant amount of money. One of my best tips for making mock ups is to use repurposed thrift store sheets. This lets me create a working draft of a project to make sure everything works using relatively cheap materials before cutting into my expensive fabric. Keep an open mind and explore the possibilities that thrift stores and garage sales have to offer.
Finding affordable fabric doesn't have to be a challenge. By shopping smart, exploring online options, and thinking outside the box, you can source high-quality fabrics at budget-friendly prices. Let's move on to the next section to discover tips for finding alternate fabric sources.
How to find other fabric sources
Upcycle old clothing
One great way to find fabric for your sewing projects is to upcycle old clothing. Take worn-out garments that you no longer wear and transform them into something new and exciting. Cut out usable sections of fabric, such as sleeves, collars, or pockets, and repurpose them in your sewing projects. You can also salvage fabric from clothes that no longer fit, giving them a new life as part of your creative sewing endeavors. Not only does this approach save money, but it also adds a unique touch to your projects.
Use fabric scraps and remnants
Another fantastic way to find affordable fabric is by utilizing fabric scraps and remnants. Ask friends or family members who sew if they have any leftover fabric pieces that they no longer need. Many times, they will be more than happy to share their scraps with you. Additionally, check out craft stores for fabric scrap bundles. These bundles often contain an assortment of different fabrics at a lower cost, perfect for smaller projects or adding interesting accents to your sewing creations. Fabric scraps and remnants are perfect for smaller projects or for quilting with.
Consider swapping fabric with fellow sewers
Participating in sewing communities or organizing fabric swaps can be a fun and cost-effective way to acquire new fabrics. Connect with fellow sewers, either locally or online, and explore the possibility of organizing a fabric swap event. During these events, you can exchange fabrics you no longer need for something new that catches your eye. It's a win-win situation, allowing you to refresh your fabric collection without spending additional money and fostering a sense of community among sewing enthusiasts.
By thinking creatively and exploring alternative fabric sources such as upcycling clothing, utilizing fabric scraps, and engaging in fabric swaps, you can expand your fabric options while keeping your budget in check. Let's move on to the next section to discover tips for finding budget-friendly sewing notions.
How to find budget friendly notions
When it comes to sewing notions, there are several ways to save money without compromising on quality or functionality.
Check local yard sales and thrift stores
Local yard sales, online second hand posts, and thrift stores are a great way to find extra notions that people are cleaning out. You may not be able to find exactly what you want at the first yard sale or thrift store, but you could also find something that catches your eye at a significantly reduced price from new. I've seen plenty of bags full of zippers, buttons, yarn, thread, and more at thrift stores and yard sales. These are common finds and are a great way to pick up sewing notions at a significantly reduced price.
Recycle from old items
Recycling sewing notions from old items is another great way to save money. Have a shirt that's worn out, but has some amazing buttons on it? Take those buttons off and save them for a later project. You'd be amazed how fast you can stock a sewing notion supply with just recycling materials from existing items that are too worn to be salvaged. Going back to the thrift store and yard sale – you can often find even more worn out items with great notions there, at an even more discounted price than normal!
Look for discounts and coupons on notions
Keep an eye out for discounts, sales, and coupons on sewing supplies. Craft stores often have promotions or clearance sections where you can find discounted sewing notions. Before making a purchase, check online or in-store for any available coupons. You can also take advantage of holiday promotions to save money on sewing supplies. By being mindful of discounts and utilizing coupons, you can significantly reduce the cost of purchasing sewing notions.
Check online
If you do have to buy a specific notion new, be sure to check that price online across multiple stores. Often, when you buy things at the fabric store you are also paying for the pleasure of instant gratification. This extra cost to be able to just walk out the door with something can be significant! Checking the prices online lets you see what this extra cost is, and decide if it's really worth it. Also, checking online can sometimes reveal opportunities to buy something in bulk, which can end up saving you money on things that you know you'll need a lot of.
By checking local yard sales and thrift stores for notions, recycling notions from other worn out items, taking advantage of discounts and coupons, and checking prices online, you can find budget-friendly sewing notions without compromising the quality of your projects.
Summary
Sewing on a budget is entirely possible with the right strategies and a little creativity. Let's recap the main tips we've covered for finding affordable fabric and notions:
Shop smart by researching local fabric stores, exploring online options, and visiting thrift stores and garage sales.
Get creative by upcycling old clothing, using fabric scraps and remnants, and considering fabric swaps with fellow sewers.
Look for budget-friendly sewing notions by checking local yard sales and thrift stores, repurpose worn out items, and taking advantage of discounts and coupons, and checking prices online.
By implementing these tips, you can pursue your passion for sewing while keeping your wallet happy. Sewing on a budget doesn't mean compromising on quality or style; it's about being resourceful and finding unique ways to bring your creative visions to life. Hunting for discount fabric and notions on a budget is a bit like a treasure hunt, with your new fabric or detail as the prize. Enjoy the process of finding affordable fabric and notions, and relish in the satisfaction of creating something beautiful and unique. Sewing on a budget can be a rewarding and fulfilling experience. Happy sewing!
Related Posts: