In the world of creativity and craftsmanship, there's a critical tool that empowers both beginners and seasoned artisans alike – the sewing machine. If you've ever marveled at the artistry of handmade garments, intricate quilts, or personalized embroidery, then you're in for a treat! Owning a sewing machine opens up a world of possibilities, allowing you to turn fabrics into fabulous creations and bring your imaginative visions to life. Whether you're just starting your sewing journey or have been threading needles for years, this article is your guide to finding the perfect sewing machine that will make your projects a breeze. We'll explore the numerous benefits of having this remarkable tool at your disposal and delve into essential tips that will help you make an informed decision when choosing the sewing machine that best suits your needs and aspirations. So, if you're eager to stitch your way into a world of limitless creativity, read on and discover the best tips for buying a sewing machine that's perfect for you!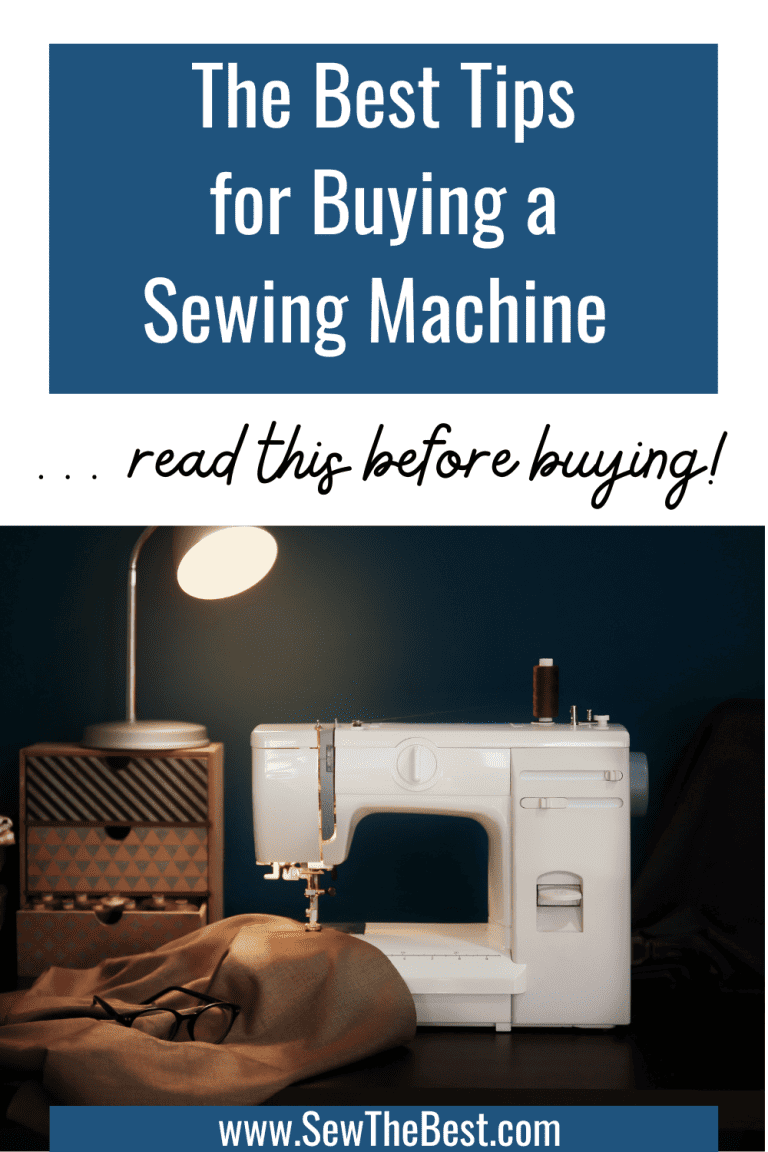 If you're in a hurry (or just curious!) –
✅ Check deals on our Favorite Sewing Machines for Beginners
What is a Sewing Machine?
Pictured here – Brother XR3774 Sewing and Quilting Machine
Before we jump into tips for buying a sewing machine, let's talk about what a sewing machine is and why it's so important to have one if you sew regularly. A sewing machine is a machine designed to quickly and efficiently stitch fabrics together. It works by using a needle to form loops of thread, which are then interlocked to create stitches. This remarkable invention revolutionized the art of sewing, saving time and effort for those who love to sew regularly. For avid sewers, a sewing machine becomes an invaluable companion, boosting productivity and enabling them to take on a wide range of projects with efficiency. Whether you enjoy crafting your own clothing, making home decor, quilting, or delving into intricate embroidery, a sewing machine simplifies complex tasks, allowing you to focus on honing your creative skills and bringing your imaginative designs to fruition. With its ability to produce consistent and professional-looking stitches, a sewing machine becomes a go-to tool for anyone who sews frequently, making it an essential asset for many types of sewing.
Tips for Buying a Sewing Machine
Know your Needs
To make a well-informed choice when buying a sewing machine, it's crucial to first assess your needs as a sewer. Determine the primary purpose of the your new sewing machine, whether it be for basic sewing, quilting, embroidery, or other specialized tasks. Take into account your skill level as a sewer, as different machines cater to beginners, intermediate, or advanced users. Additionally, consider the frequency with which you'll be using the sewing machine and the types of fabrics you'll be working with, as some machines are better suited for heavy-duty materials while others excel with delicate fabrics. Understanding your specific sewing needs will guide you towards finding the perfect match for your creative endeavors.
Machine Type and Features
Understanding the different types and features of sewing machines is also essential for making the right choice when buying a new sewing machine. Sewing machines come in two main types: mechanical and computerized. Mechanical machines are simple and dependable, ideal for beginners and basic sewing tasks. Computerized machines are more advanced, equipped with programmable stitches and digital displays. Computerized sewing machines are a great choice for intermediate to advanced sewers and intricate projects. When evaluating sewing machine features, prioritize essential elements like built-in stitches and automatic needle threading as they enhance efficiency and versatility. Additionally, consider optional features such as a free arm for circular sewing and a one-step buttonhole function for added convenience and specialized projects. By understanding machine types and features, you can confidently select a sewing machine that aligns perfectly with your sewing ambitions and creative aspirations.
Quality and Durability
When investing in a sewing machine, prioritizing quality and durability is very important. A well-built and sturdy sewing machine will last for a long time and have consistent performance, allowing you to sew without worries. To gauge the quality of a sewing machine, consider factors such as the brand's reputation and customer reviews, as they offer valuable insights into the machine's reliability and user satisfaction. If possible, try out the sewing machine before making a purchase to get a hands-on experience with its features and functionality. Feeling the smoothness of operation and evaluating its ease of use firsthand can help you make an informed decision. Also, be sure to check out what type of warranty comes with your new sewing machine. Most good sewing machine manufacturers have some sort of a 1 / 5 / 25 year limited warranty that will cover your new machine from all defects.
Budget
When considering your budget for a sewing machine, it's essential to weigh the range of prices available, which often correspond to varying features and capabilities. Setting a budget that aligns with your specific sewing needs and long-term goals ensures that you make a wise investment. While some sewing machines may come with a higher price tag due to advanced features, others might offer suitable options at a more affordable range. If you find yourself on a tight budget, consider the possibility of purchasing a second-hand sewing machine, provided it's in good working condition. Opting for a pre-owned machine can be a cost-effective solution without compromising on quality. If you do go the pre-owned route, you do need to know that the manufacturer's warranty may no longer apply to your machine. So if possible, get it from a local sewing shop and make sure that they'll be issueing a similar warranty for the machine. By carefully considering your budget, you'll be well-equipped to find a sewing machine that strikes the perfect balance between functionality and affordability.
Research and Compare
Be sure to take the time to explore different sewing machine models and brands, as each may offer unique features and advantages. Reading customer reviews provides valuable insights into the experiences of other users, helping you gauge the machine's performance and reliability. Additionally, compare the specifications of various models to ensure they align with your sewing requirements. Pay attention to factors like built-in stitches, sewing speed, and additional accessories. By dedicating effort to research and comparison, you'll be well-prepared to make an informed decision, selecting a sewing machine that perfectly complements your creative journey and brings your sewing visions to life.
Vendor Matters
Choosing the right vendor when purchasing a sewing machine is also critically important. Some unscrupulous vendors may attempt to resell used machines as new, leading to dissatisfaction and poor sewing machine performance. Also, only licensed vendors have the authorization to sell specific sewing machine models and provide genuine products with full warranty support. To ensure a legitimate purchase and maintain the validity of the warranty, it's essential to buy from licensed and reputable vendors. By carefully selecting a trustworthy vendor, you safeguard yourself from unnecessary inconveniences and guarantee a smooth and satisfactory sewing machine buying experience.
FAQ
What to look for when buying a sewing machine?
When buying a new sewing machine, the key things you should look for are:
Your sewing needs
The machine's capabilities
The machine's quality and durability
Your budget
What type of warranty comes with the machine
What is the most reliable brand of sewing machine?
The most reliable brands of sewing machines are ( in no particular order ) Singer, Brother, Juke, and Janome. These are all well known sewing machine brands for a reason! they are reliable, durable, and come with excellent warranties – just in case.
What should a beginner look for in a sewing machine?
Beginners should look for a couple of things in a sewing machine, including:
Number of built-in stitches ( we recommend at least 14 )
Ease of use features like needle threading and adjustable speed sliders
Sewing light
Automatic bobbin winding
Free arm sewing
Machines billed as "easy to use"
Is it better to buy a mechanical or computerized sewing machine for a beginner?
For beginners, you can really choose either a mechanical or computerized sewing machine and be successful. With a mechanical sewing machine, you adjust each setting of the machine by hand using knobs, sliders, and levers. There are usually only a few of these total, but many different combinations. So it can be easy to get started with a mechanical sewing machine but hard to master. Computerized sewing machines are completely controlled by a few buttons on the machine. These can be used to select the stitches and change all of the settings on the machines. Computerized sewing machines often have default stitch settings that are automatically set when you choose a stitch, as well as many other features that make using the machine easier.
What are the essential stitches that a beginner should have on their sewing machine?
A beginner sewer should look for some essential stitches on their sewing machine including:
Straight stitches
ZigZag stitches
Stretch stitches
Buttonhole stitches
In general, we recommend that beginner sewing machines have at least 14 different stitches, with the ability to adjust stitch width, length, thread tension, and to do free arm sewing.
Summary
Finding the perfect sewing machine is a crucial step in unleashing your creative potential. Understanding your specific needs, skill level, and the type of fabrics you'll work with are essential starting points. Exploring the various machine types and features will lead you to the best fit for your sewing endeavors. Quality and durability play a significant role in ensuring a long-lasting and enjoyable sewing journey. Budget considerations offer a practical approach to finding a machine that meets your requirements without breaking the bank. Thorough research and comparison, along with insights from customer reviews, will guide you towards making an informed decision. Lastly, remember the significance of purchasing from licensed vendors to avoid potential issues. By taking these tips into account, you'll be well-equipped to choose the perfect sewing machine, opening up a world of creative possibilities and bringing your imaginative visions to life. Happy sewing!
Related Posts: