Gifts for people who sew can be hard to find. You want something that they'll love, but what do you get for someone whose hobbies are making clothes and quilts? It doesn't need to be difficult though! There are plenty of gifts out there specifically designed for people who enjoy sewing. Here is a list of the top 10 gifts any sewer would love.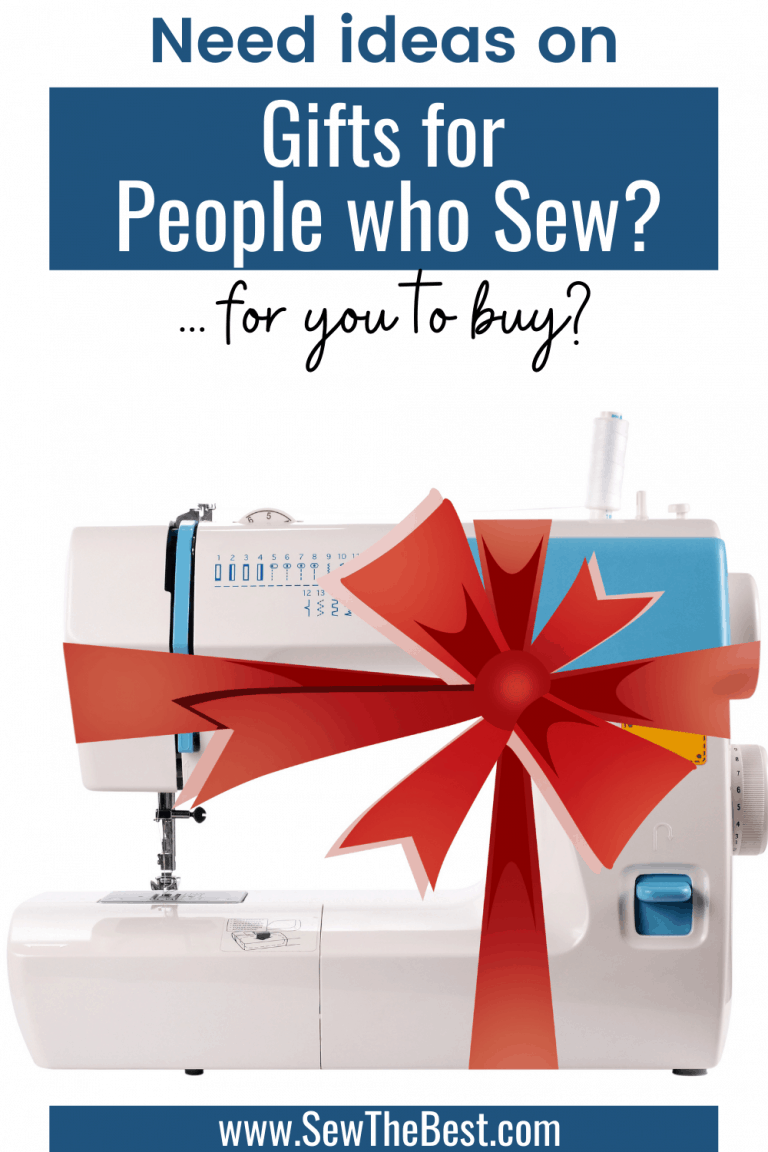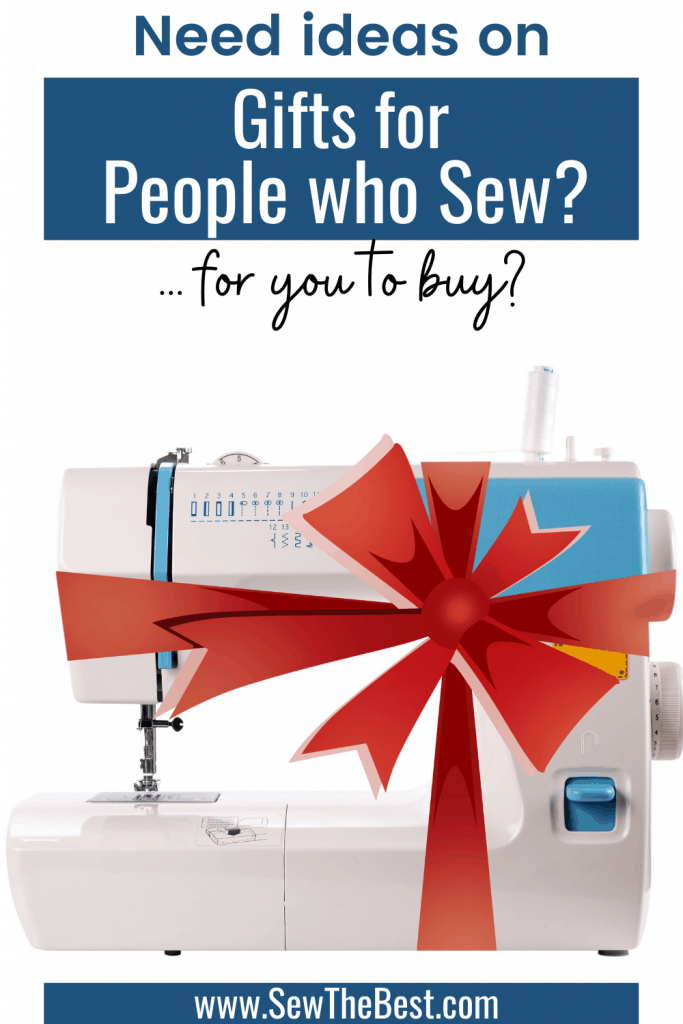 This gift guide tries to accommodate for any budget. Gifts here range from a couple of dollars to hundreds (or thousands) of dollars. So there is bound to be a gift idea for a person who sews that fits in your budget in this list.
If you're in a hurry (or just curious!) –
✅ Check deals on these gifts for people who sew!
1. Sewing Machine
This is one of the best gifts for people who sew. The sewing machine industry has exploded over the last few years and there are tons of options out there, from inexpensive to professional quality machines. The skill levels of a sewer needs to be considered if you are looking to buy a sewing machine as a gift. A more advanced sewing machine may be too daunting for a new sewer and prevent them from enjoying the craft.
The more advanced machines can come with hundreds of stitch patterns and these are often computerized so that you can store them on the machine. You could even get them an automatic embroidery machine that can use to embroider beautiful designs into their projects. Most embroidery machines even have USB ports to import your own designs or stitches.
Check Price
Best All Around
Brother CS7000X Computerized Sewing Machine
70 built-in stitches
Detachable extension table
Computerized sewing machine
Automatic needle threader
Free arm sewing
25 year warranty
Check Price
Best Mechanical
Brother GX37 Mechanical Sewing Machine
37 built-in stitches
Mechanical sewing machine
Automatic needle threader
Free arm sewing
25 year warranty
Check Price
Best Embroidery
Brother PE800 Embroidery Machine
Embroidery only machine
138 built-in designs
5″ x 7″ embroidery area
USB port for adding new designs
Large, full color LCD
25 year limited warranty
Check Price
2. A sewing table that folds up into a cabinet when not in use
Finding a gift for someone who sews can be difficult because most sewers already have everything they need. One great idea is to treat them with a table that has built in storage and folds up into an end table when not in use! This way, the person you're shopping for doesn't even need extra space or to store it away somewhere else-the cabinet will seamlessly blend right into whatever style of decor they've chosen!
This would make such a thoughtful gift since anyone who sews needs more counter space to work on projects especially if they like doing crafts at home like scrapbooking or knitting as well. When folded down, this would fit perfectly along the wall next to other furniture.
Check Price
3. Rotary Cutter
A rotary cutter is a cutting tool that looks like a pizza cutter. You glide it across the fabric and it cuts out perfect shapes every time. This makes quick work of pattern pieces for quilts or things like appliqué designs. A rotary cutter is a really useful tool for cutting out your projects. They come in several different sizes and styles, from small ones just big enough to cut through one layer of cotton fabric to larger ones that can cut through multiple layers of fabric at once!
These are great gifts for people who sew. No sewer should be without this essential tool.
Even if your gift recipient already has a rotary cutter, more blades are always welcome. Rotary cutter blades can wear out rather quickly – they do not last a long time. Having sharp blades in your rotary cutter means that less pressure is needed to cut through the fabric. This makes them safer to use. So buying more blades can make their next sewing project go that much smoother and safer.
If your recipient does not have a rotary cutter already, you should consider getting them a self healing cutting mat to go with their new cutter. Self-healing mats are a special rubber mat that is used with a rotary cutter. This will protect their table top while they cut and keep them safe.
These cutting tools would be great gifts for people who sew. However, if that still seems too pricey or out of reach then consider buying some sewing scissors instead (even beginner sewer should have these). A cheap pair of scissors might not last forever but most new seamstresses would appreciate a pair to start out with.
Check Price
4. Lights for their sewing room
Lights for sewing can be a perfect gift idea. Most sewers don't have enough natural light in their rooms so they need to rely on lamps or overhead lights. For people who sew, getting bright lighting is important because it allows them to see the fabric properly and thread needles easily without straining your eyes!
There are tons of great options out there from basic desk lamp with an adjustable arm all the way up to specialty sewing room fixtures that provide ambient lighting throughout the entire space. No matter what style you're looking for, someone who sews will appreciate having better quality lighting when doing their craft!
Check Price
5. A pin cushion or seam ripper
A pin cushion is an essential tool for sewers. Pin cushions are great gifts because they're small, inexpensive items that fit perfectly in a sewing kit or can be displayed on the person's desk at work! Pin cushions come in all sorts of different colors and styles. So you do not have to settle for the old fashioned tomato and strawberry with this gift. Maybe get a whimsical porcupine or a cactus pincushion instead?
Check Price
6. Better thimble
A better thimble is a great gift for people who sew. A Sewing enthusiast needs to protect their fingers from getting pricked by the needle while sewing. A regular, metal thimble can be difficult to wear with fingernails. They can also snap sewing needles if too much pressure is applied with them. A leather, rubber, or plastic alternative will work much better. I personally love my rubber sewing thimbles. Thy are great for gripping the needle to pull it through the fabric while reducing the wear on my fingers. The best part about this as a gift idea is that anyone who sews needs one so even if they have one already this would still make an excellent addition to their collection.
Check Price
7. Easy sewing projects with patterns included
If the person you're shopping for sews, they probably already have their go-to projects and patterns. This can make it difficult to come up with gift ideas because everything looks like something they've made before! One great idea is a kit that includes all of the supplies needed as well as directions. There are tons of options out there from wall art quilts to simple stuffed animals or dolls. The best part about this sort of gift is that if someone has been struggling with sewing lately, giving them an easy project will give them confidence in making things again since they'll know exactly how big each piece needs to be cut etc…and won't feel overwhelmed by trying something totally new!
8. A gift certificate to their favorite fabric or hobby store
A gift certificate to a fabric store is a perfect gift for someone who sews. Let's face it, craft and sewing supplies are expensive. This is one of the reasons why sewing can be an expensive hobby. If someone you know enjoys doing crafts like knitting or quilting, then giving them a gift certificate to their favorite fabric store will help encourage them to get creative and make something new!
Check Price
9. Pattern weights
Pattern weights are perfect gifts for people who sew. Pattern weights help keep the pattern in place while cutting out fabric pieces or tracing it on to new materials. Pattern weights are relatively cheap and are great to use with a rotary cutter.
Check Price
10. Fabric clips
Fabric clips are great gifts for people who sew. These small, plastic items help keep fabric pieces together and can be used with a rotary cutter as well! They work by opening wide and then snapping closed on the fabric to hold it in place while cutting or sewing.
Fabric clips are great for sewing slippery materials like satins, or for thin materials where a pin would damage the fabric. They also helps stop fraying of fabrics when they're cut which is always nice – especially if you like using silk scarves for crafting projects!
Check Price
FAQ about gifts for people who sew
What makes a good gift for a sewing lover?
A good gift for someone who sews takes a few things into consideration. First, what is your budget for this gift? If you have a $50 budget, you probably won't be buying them a new sewing machine.
Another major consideration is if they already have one of the items, or if they can use more of them. Some things like thimbles, gift certificates, a better thimble, a rotary cutter, or an easy sewing project are ok to have multiples of. However, your sewing friends are probably not going to need more than one sewing machine or sewing table.
Is the gift useful to them? A useful gift can go a great way towards making a good gift. If the sewing machine you are considering buying is too advanced for your recipient, or if they do not have space for that fancy sewing table, then that gift will not be useful to them.
Summary
Finding gifts for people who sew can be hard. Whether you're looking to spend a couple dollars or hundreds of dollars, we've put together some great gift ideas that will work with any budget. This gift list is great for many occasions – Birthday gifts for people who sew, Christmas gift ideas for people who sew, and more. Check out the links below and see if anything catches your eye!
Check Price on Gifts