What baby blanket size do you need? Do you know how to make a baby blanket or baby afghan, but not sure what the correct baby blanket size is for your needs? There are many different types of baby blankets that range from preemie baby blankets to stroller and crib blankets. In this blog post, we will discuss all of these different sizes and show you how to find the perfect one for your needs!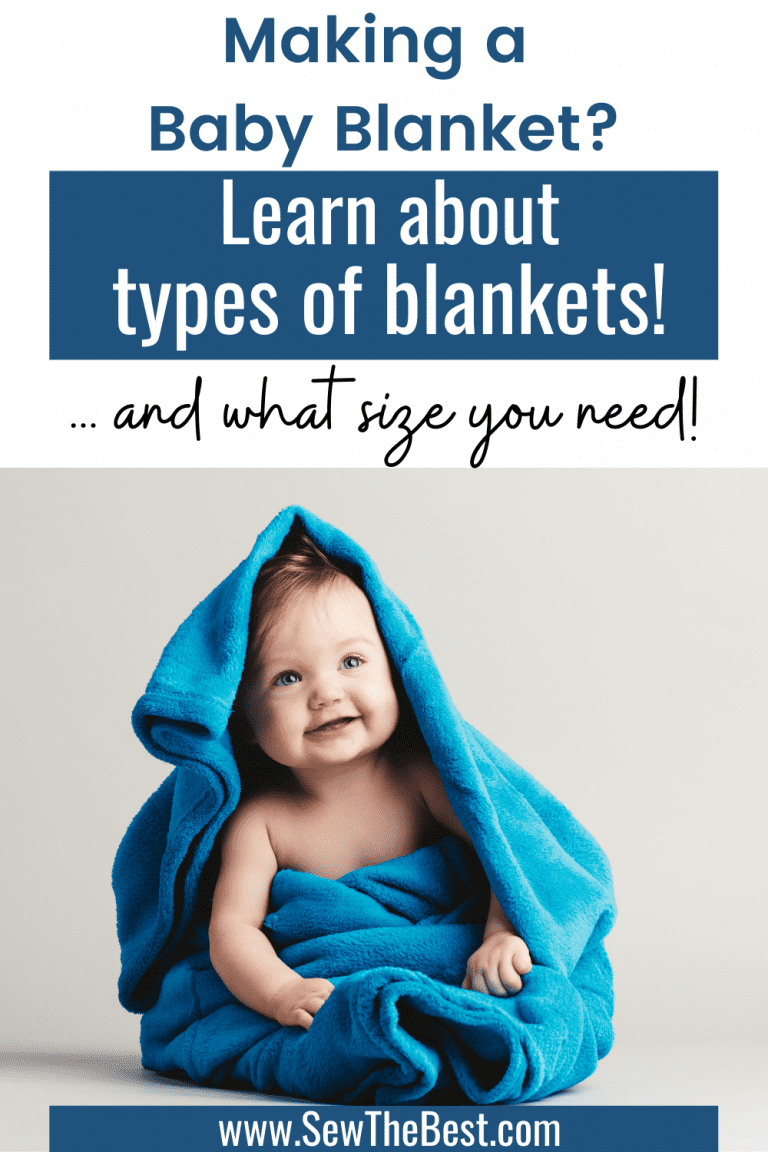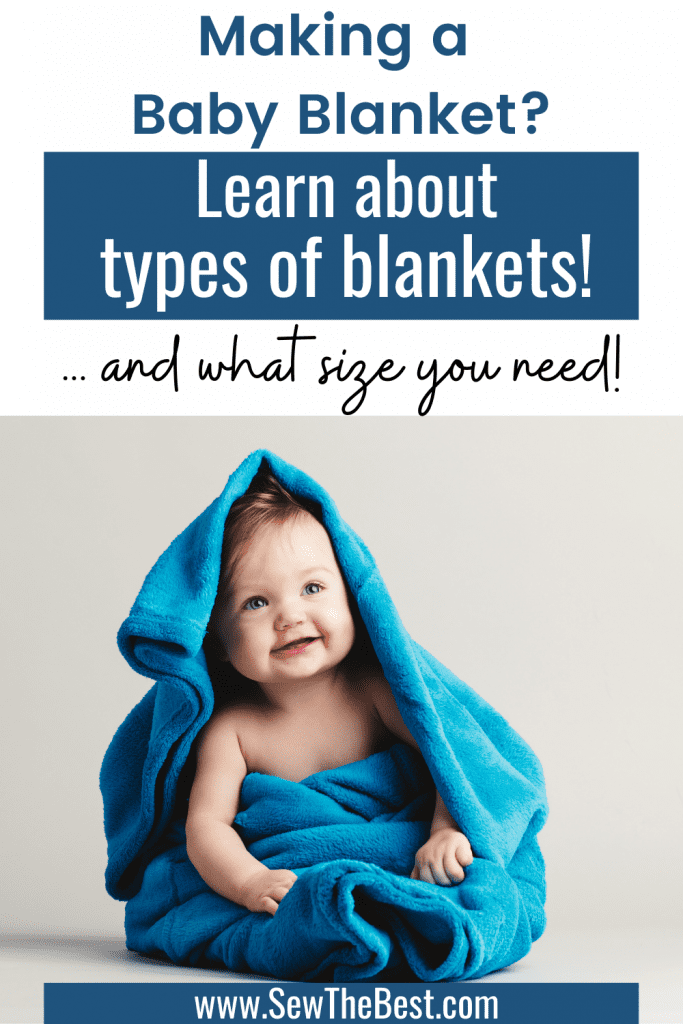 Baby Blanket Sizes and Types
Baby blankets come in all sorts of sizes and shapes, depending on what the baby blanket is being used for. Even the materials can differ completely from one blanket to another. Some blankets use lightweight fabric and others are heavier or thicker. In this article, we'll talk about all of the different types of baby blankets and some appropriate materials to use for making them. The average baby blanket size can vary quite a bit depending on what type of blanket it is and what it is intended for. So let's learn about the different types of blankets and the common size for them.
The measurements here are the standard blanket size for various baby blankets. This does not mean that they are the best size for your needs. You may find that you want a larger blanket or need small blankets. This is ok! Each baby is different, so make your blankets the right size for your needs. Be sure to add seam allowances to these blankets as these are the different blanket sizes with out seam allowances.
Something to keep in mind with all of these blankets, is that the end of the day, they are all just blankets. They don't have just one use, but can be multi-use blankets depending on the size they are. This is just a collection of some of the various sizes of blankets that are common for babies and kids. But, if a blanket here is the right size blanket for your needs, then it's the correct blanket for you no matter what the name says!
Baby Blanket Safety
Before we get started, a quick word about safety. The American Academy of Pediatrics warns against having soft objects and loose bedding in cribs, citing a increase in risk of suffocation. This includes pillows, comforters, quilts, bumper pads, and even soft toys! Most experts agree that after a year old soft objects like these pose little risk to healthy babies. Remember, very young babies will not have the head control to move if they are being smothered by something soft.
Something else to consider with your new blanket is that babies love to put things in their mouth. Strings, buttons, ties, and more will all find their way into a baby's mouth. Make sure you consider this when you are making your new blanket. Make sure that it does not have any lose bits like buttons, ribbons, strings, tassels, pom pom's, etc. Lace and other holes in your fabric are also bad choices – fingers can easily get trapped in the holes. These are all great for older children (3+ years) but can be disastrous with a baby.
Finally, when riding in a car seat, blankets should never be between the seat and the child, or between the straps and the child. Any blankets used in a car seat should go over the strapped in child. With smaller babies you want to skip a car seat blanket entirely due to the risk of suffocation. Babies that cannot move their heads or the blanket would be helpless if the blanket covers their face or if their head dips into the blanket.
Be safe with your new blanket.
Crib Blanket
Crib blankets are intended for babies who are a year or older and still sleeping in a crib or in a crib converted to a toddler bed. These blankets can be made out of various materials depending on the blanket weight desired. These can be quilted blankets, crocheted or knitted afghans, or lightweight sheets. Cribs can come in two different sizes, so knowing if it is a full size or portable crib is important here. A crib blanket for a full size or standard size crib would be at least 28″ x 52″ to fit the crib exactly. If you wanted the blanket to hang over the edge, add that to the size of the blanket. A crib blanket for a portable crib would be at least 24″ x 36″ plus how much you want the blanket to extend over the edge.
Crib Sheet
Flat crib sheets are going to be the same size as a crib blanket. Again, it will depend on if you have a full size or a portable crib and how much you want the sheet to hang over the edge. Full size cribs would need at least a 28 x 52 inch sheet, portable cribs would need at least a 24 x 36 inch sheet if you wanted to fit the crib exactly. Good materials for a crib sheet are light cottons that can handle being repeatedly washed.
Fitted crib sheets are going to be more of a challenge to size if you decide to make one. For a fitted crib sheet, you'll want to know the exact size of the mattress it will be going on. The measurements above are a good starter, but be sure to measure your mattress for a perfect fit. Then, measure the depth of the mattress. A fitted sheet wraps around the mattress and extends across the bottom some. Add two times the depth of the mattress to each side of the mattress' measurements. Then add an additional 12″ for the fitted sheet to extend on the bottom and to add elastic into.
Stroller Blanket
Stroller blanket are significantly smaller than crib blankets. Stroller blankets are intended for use in the stroller to keep a baby warm when out walking on a cooler day. Stroller blankets can be custom fitted to a specific stroller or they can be a general rectangular shape and tucked in around baby. Stroller blankets generally measure about 30″ x 36″. These smaller blankets can also make a perfect car seat blanket. This is a good size for tucking around baby without being too bulky. Stroller blanket materials can range from a light cotton gauze to a thicker fleece blankets or even heavier depending on the environment it will be used for!
Baby Quilt
Baby quilts should be a similar size to a crib blanket. So, depending on if it is intended for a standard crib or a portable crib you would want quilt sizes measuring between 28 x 52 inches to 24 x 36 inches. Again, be sure to add any desired overhang to the size here, this would fit the crib exactly. Baby quilts can be decorative pieces that are intended to be passed down from generation to generation.
Receiving Blanket
Receiving blankets are used by the newest and smallest of babies. These blankets are for swaddling a new baby to help keep them warm and feeling secure. These blankets may see a lot of spills and need to be sturdy enough to withstand repeat washings. Flannel, soft cottons, and other similar soft but lighter materials are good choices for this blanket. A good receiving blanket size is 40″ x 40″.
Swaddling Blanket
Swaddling blankets are a bit larger than a receiving blanket, but are used similarly. Babies grow so rapidly in the first few months that they will quickly outgrow their receiving blanket but will still appreciate being swaddled and wrapped. A swaddle blanket is the next size up blanket for this. A swaddling blanket is a square blanket with dimensions that are generally around 47″ x 47″. These blankets need to be made out of lighter materials that are also sturdy enough to endure repeat washings. Cotton flannels, soft cottons, and other similar fabrics are good choices for this blanket.
Preemie Blanket
Preemie blankets are some of the smallest blankets for the smallest of babies. These blankets again need to be able to withstand multiple washings, but also need to be a super soft material. Since a preemie weigh a pound or less, preemie blankets also need to be really light weight. Good fabric choices include a soft flannel or cotton material. Preemie blankets can range in size with the baby. The smallest of preemie blankets can be as tiny as 18″ x 24″ and can range up to a receiving blanket in size.
Security Blanket
Security blankets can also double as lovey blankets. These are often smaller blankets that a toddler or young child can take with them for comfort. They can range in size from washcloth size to the size of small throw blankets. They are often made out of soft fabric and bright colors.
Summary
In this post you learned all about the variety of sizes that baby and toddler blankets can come in. These blankets can range from purely decorative blankets to functional blankets. The most important thing to remember about all of these blankets is that even with the different names, these blankets can fulfil more than just one specific purpose. Also, the variety of sizes here are recommendations and the perfect size blanket for your baby will vary depending on the size of the baby.